Halloween recipes can include sweet treats, like Halloween cupcakes, cookies or pies – or they can include healthier fare, like veggie trays. Halloween is a time to get creative and have a little fun in the kitchen, whipping up interesting (and creeptastical) recipes that everyone will enjoy. See one of your favorite Halloween recipe ideas listed? Vote for it!
Before you get all freaked out, thinking, "But I'm not a cook! I can't create anything special," think again. Some of the recipes I've listed are not hard to make. At all. So breathe. You don't have to be a Top Chef contender to pull off a great Halloween party food spread for your friends and family. You just have to follow directions.
Whether you're scrambling to make up Halloween treats for your kid's preschool class or planning a more elaborate spread for a Halloween party (including Halloween punch), these are some of the tastiest, best Halloween recipes around.
 
Pumpkin Cake O' Lantern
Pumpkins are perfect for Halloween. Pumpkin
cakes
…well, even more perfect. If you need a good Halloween cake recipe, consider the Pumpkin Cake O' Lantern. This pumpkin cake is made using two Bundt spice cakes, colored sugar, chocolate chips and other sweet goodies. It does take a bit more time than some of the other Halloween recipe options I've listed, but this cake could well be the centerpiece of your entire Halloween food table!
To see the entire recipe, including some variations, 
click here.
Spider Dip Bowl
If you're going for an all-out Halloween food spread at a party, a Spider Dip Bowl will look awesome as a centerpiece. The recipe is a bit more elaborate than, say, arranging carrots to look like a pumpkin, but it's a
cool
idea that will surely get attention.
To make a Spider Dip Bowl, you'll use (thawed) frozen bread dough, using pieces of the dough as strips to make spider legs. Give yourself a couple of days for this one – because it'll take several hours (overnight) for the bread to thaw enough.
To see the detailed instructions, click here. And don't forget to buy the dip! You can use nacho cheese, onion dip, ranch dip, or really any other kind of dip you like.
Eyeball Cupcakes
Nearly everyone loves cupcakes – and Halloween is the perfect time to whip up some creepy ones. Witch's Hat cupcakes are pretty tame, so why not go with some freakish Eyeball Cupcakes as well? Because who doesn't enjoy having their food stare back at them, right?
Just like the Witch's Hat cupcakes, you can make the Eyeball Cupcakes using any flavor of cupcake you like. Decorating the cupcakes is a bit more difficult than some of the other ideas, but if you have the time, it's worth it. You'll use tinted frosting for bloody veins, jelly beans for the eyes and round candy for the pupils.
To see the entire recipe, 
click here.
Pumpkin Cheesecake Pie
Halloween recipes often include pumpkin and really, pumpkin cheesecake? Sublime! For a twist on this favorite, try making a pumpkin cheesecake pie. The ingredients are pretty easy to get – the only trick will be making the cheesecake pie into a spider web design. Practice makes perfect – so if you mess up one pie, have enough to make a second (and while you're perfecting, you can consume that first pie).
For the entire recipe, click here.
This pie really looks gorgeous and, as with almost all of these recipes, you can
dress
it up with some plastic spiders or other spooky Halloween decorations. A nice 
gothic candelabra
 might look nifty too!
Pumpkin Veggie Tray
Okay, so not everyone likes sweets. Want a quick and easy healthy Halloween recipe idea? Go with the pumpkin veggie tray. This recipe actually doesn't involve ANY cooking. No, you just arrange little baby carrots in the shape of a pumpkin, insert various dips for the eyes and nose and use cucumber slices for the mouth!
To see this ridiculously simple, but really creative, Halloween recipe idea, 
click here.
Witch's Fingers Cookies
Nothing says Halloween like eating severed fingers, right? Right! So you might consider making some spooky Witch's Fingers for the holiday. And no, they aren't really fingers. They're Halloween cookies. But they are kinda creepy.
To make Halloween Witch's Fingers, you'll use traditional cookie ingredients, like flour, sugar, eggs and butter. Prep time is around 30 minutes, and you should be able to make everything in less than two hours. Believe me, these are so cute at Halloween parties (and tasty)!
To see the entire recipe, 
click here.
If you need a classic Halloween treat that isn't sweet, making hot dog mummies might be the way to go. It's a fun and pretty easy Halloween recipe that definitely fits with the whole spooky holiday idea. Simply wrap up hot dogs in refrigerated bread sticks (or crescent rolls), bake and decorate, making the eyes out of – you guessed it – mustard!
To see the entire recipe, 
click here.
Caramel Apples
No list of the best Halloween recipes would be complete without including caramel apples. You've got several (easy) options for making them. Some stores may sell pre-prepared sheets of caramel that you simply heat and roll onto an apple. Other recipes may require a few extra steps, including heating the caramel up in the microwave. Either way, you truly can't go wrong with caramel apples for Halloween.
To see the entire recipe and variations for caramel apples, 
click here
.
Popcorn Balls
Black Halloween Punch
If you're totally short on time and you absolutely need a super-fast Halloween punch, try a Black Halloween Punch recipe. It takes just minutes to whip up a batch of refreshing punch, using a combination of unsweetened grape and orange soft
drink
mixes.
If you have time, you can also make a pretty creepy looking frozen hand as a decoration, using just a disposable glove!
To see the entire recipe for Black Halloween Punch, 
click here.
*Note: If you can, try to get some dry ice to use around your punch bowl. The smoky effect is perfect for parties!
Witch's Hat Cupcakes
Cupcakes can be a bit challenging at times, but not these witch's hat cupcakes! They are super cute and you can make them using a few (easy-to-get) ingredients. You bake a traditional cupcake (vanilla, chocolate, whatever you like), frost with orange frosting, use a chocolate cookie and a Bugles corn snack for the hat – and voila!
To see the entire recipe, 
click here.
 For an alternate recipe, using chocolate and orange cream filling, 
check this out.
Rotten Apple Punch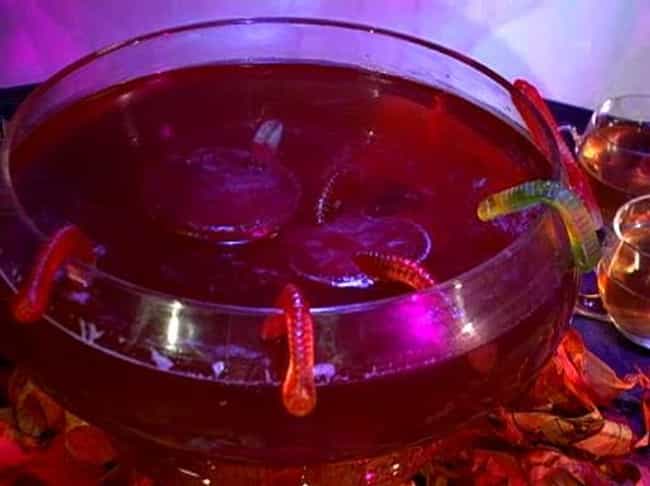 You're going to want to make a Halloween punch for your gathering – and you've got tons of options, really. None, however, are more tasty than Rotten Apple Punch! It's a really simple, apple cider-based punch that's just creepy enough to fit with the whole Halloween theme (you use gummy bears to make the 'wormy' apples).
To see the entire recipe, 
click here.
Note: To add more ambience, you can always use dry ice around your punch display for a nice, foggy effect.
Kitty Litter Cake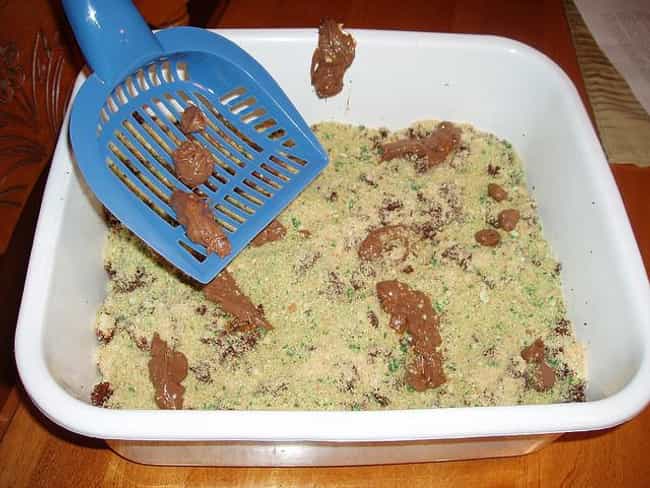 Wanna go all-out with some really gross Halloween party food? Kitty Litter Cake is the way to go. And yes, it really 
is
 that disgusting looking (but it's delicious).
Making Kitty Litter cake does entail getting a few props: a
cat
litter box, a litter scoop and a box liner, among other
things
. You'll use a couple of different cake mixes, some vanilla pudding mix, vanilla sandwich cookies and some tootsie rolls. Oh, and food coloring. To make it extra icky.
To see the entire recipe, and to read about possible Kitty Litter Cake variations, 
click here.
INTERESTING FOR YOU