From the cheesy biscuits at Red Lobster to the amazing sauces at Buffalo Wild Wings, it's always tempting to go out for a delicious treat at one of the numerous chain and franchise restaurants dotting the landscape. But eating out at restaurants all the time can be a costly proposition. Not to mention the fact that, at restaurants, you have no portion control, and can't alter the recipes, ingredients or style of cooking to suit your own taste.
Bonefish Grill was founded in 2000 in St. Petersburg, FL, and now boasts over 150 franchises in 28 US states. The restaurant is known for featuring rare fish on its dishes, usually at least eight a day. Menu favorites include the "Bang Bang Shrimp" and the "Pomegranate Martini," which is served with frozen grapes.
What are the best Bonefish Grill recipes? Making Bonefish Grill recipes in your home gives you all of these options, while saving you money, and providing the same great diversity and taste that you'd find at your favorite casual dining spot. This list collections the best copycat Bonefish Grill recipes from around the Web.
Bangbang Shrimp
1 lb shrimp , shelled and deveined smaller shrimp works best
1/2 cup mayonnaise
1/4 cup Thai sweet chili sauce
3 -5 drops hot chili sauce , just a few drops
1/2-3/4 cup cornstarch , to coat the shrimp in
– Mix mayo and sauces for coating.
– Bread shrimp in cornstarch.
– Deep fat fry the shrimp until lightly brown.
– Drain on paper towel, put shrimp in a bowl and coat with the sauce.
– Serve in a lettuce lined bowl, top with chopped scallions.
Corn Chowder with Lump Crab
1 russet potato, peeled and cubed
5 slices bacon, diced
1/2 onion, chopped
1 (6 ounce) can crab meat, drained
1/2 teaspoon parsley flakes
2 tablespoons butter
1/3 cup all-purpose flour
1/4 cup dry white wine (optional)
1 cube chicken bouillon
1 1/2 cups milk
1 (15 ounce) can creamed corn
salt and pepper to taste
– Wrap potato cubes in plastic wrap, and microwave for 30 seconds.
– Set aside.
– Cook bacon over medium heat until heated through, and add chopped onions.
– Cook and stir until onions are clear. Stir in crab meat and parsley flakes. Set aside.
– Melt butter in a large stock pot over low heat.
– Whisk in flour until mixture becomes creamy and takes on a eggshell color.
– Continue to cook for a few more minutes, stirring occasionally.
– Stir in wine.
– Dissolve chicken bouillon in milk.
– When the flour mixture is crumbly, slowly whisk in the milk.
– Mix well in order to eliminate all lumps.
– When the mixture is creamy and hot, stir in bacon mixture, cubed potatoes, and creamed corn.
– Season with salt and pepper to taste.
– Simmer for 10 minutes.
– For a creamy curry variation add 2 tablespoons curry powder after adding the wine to the flour mixture, and substitute cooked, cubed chicken for the bacon.
Maryland Crab Cake
1 pound crabmeat
2 slices white bread, crusts trimmed
1 egg, beaten
1 tablespoon mayonnaise
1 teaspoon Dijon-style prepared mustard
1 teaspoon Worcestershire sauce
1 tablespoon Old Bay Seasoning TM
2 tablespoons butter
– Pick the crab meat to remove any remaining pieces of shell.
– Pick bread into small pieces and place in medium-size bowl with crabmeat.
– Add egg, mayonnaise, mustard, Worcestershire sauce, and Old Bay seasoning ™.
– Mix ingredients by hand to avoid overworking the crabmeat, you want to keep the lumps of meat as much as possible. – — Form into patties. make 6 good-size
cakes
.
– Heat 2 tablespoons of butter in a skillet.
– Fry cakes for about 4 minutes each side or until brown crust forms on both sides of the crab cake.
Diablo Shrimp Fettuccine
1 lb medium shrimp , peeled and deveined if desired (31 to 35 per pound)
1 teaspoon crushed red pepper flakes (or more, to taste)
6 tablespoons extra virgin olive oil
1 1/2 tablespoons salt
1/4 cup cognac or 1/4 cup brandy
1/4 cup minced garlic (about 20 small, 12 medium, 10 large, or 5 extra-large cloves from 1 or 2 heads)
1/2 teaspoon sugar
1 (28 ounce) can diced tomatoes , drained
1 cup dry white wine
1 lb dried fettuccine pasta or 1 lb spaghetti
1/4 cup minced fresh parsley leaves
– Bring 4 quarts water to a boil in large Dutch oven or stockpot.
– Heat 12-inch heavy-bottomed skillet over high heat for 4 minutes.
– Toss shrimp with half of red pepper flakes, 2 tablespoons olive oil, and ¾ teaspoon salt.
– Add shrimp to hot skillet and quickly arrange in single layer.
– Sear until bottom of shrimp forms small spot of crust, about 30 seconds.
– Remove skillet from heat, turn shrimp over.
– Add cognac; pause until cognac has warmed slightly, about 5 seconds.
– Return to high heat.
– Wave lit match over pan until cognac ignites, shaking pan.
– Remove shrimp to medium bowl and set aside.
– Allow empty skillet to
cool
, off heat, for 2 minutes.
– Return to burner over low heat.
– Add 3 tablespoons olive oil and 3 tablespoons garlic and cook, stirring constantly, until garlic foams and becomes sticky and straw colored, 7 to 10 minutes.
– Add remaining red pepper flakes and 3/4 teaspoon salt, sugar, tomatoes, and wine.
– Increase heat to medium-high, and simmer until thickened and fragrant, about 8 minutes longer.
– Stir in reserved shrimp (with accumulated juices), remaining 1 tablespoon garlic, and parsley and simmer until shrimp have heated through, about 1 minute longer.
– Off heat, stir in remaining 1 tablespoon olive oil.
– Add pasta and 1 tablespoon salt to boiling water.
– Stir to separate pasta, and cook until al dente.
– Reserve 1/3 cup pasta cooking water and drain pasta.
– Transfer drained pasta back to now empty Dutch oven or stockpot.
– Add about 1/2 cup sauce (sauce only, no shrimp) and 2 to 3 tablespoons reserved pasta cooking water.
– Toss to coat.
– Divide pasta among warm serving plates.
– Top with a portion of sauce and shrimp.
– Serve immediately.
Pecan Parmesan Crusted Rainbow Trout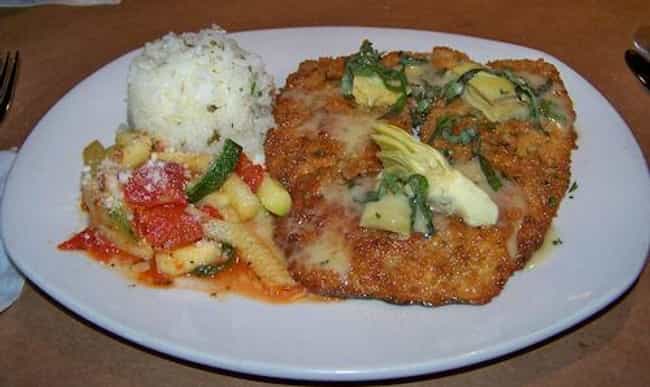 1ea rainbow trout fillet (whole piece) (tail removed)
2oz pecan & parmesan crust topping
1/2oz salt & pepper mix
Vegaline spray
1oz artichoke hearts (chopped)
/4oz basil (rough chopped)
1/4oz fresh lemon juice
1/8oz shallots, minced
1/4oz white wine, Regina
2oz unsalted butter (cut in cubes 1/2″x1/2″)
4oz couscous
1ea tomato gratin
1/8oz fresh basil, chiffonade
Lemon Butter Sauce:
Lemon juice, fresh squeezed, 8oz
White wine, Regina, 4oz
Fresh garlic, minced, 3oz
Fresh shallots, minced, 1oz
Heavy cream, Borden, 6cup (48oz)
Cold water, 2oz
Corn starch, 1oz
– Heat lemon juice, white wine, garlic & shallots on high
– Cook until lemon juice & wine reduce by ½ (approx. 2 minutes)
– Add heavy cream, lower heat to medium & cook until cream boils.
– Stirring with a whisk constantly.
– Cook cream for 2 minutes.
– Mix cold water & corn starch together to make a slurry.
– Add slurry to lemon cream sauce & whisk for 1 minute.
– Pour into a metal 6th pan and keep in hot well on the cook line for service
Pecan & Parmesan Crust :
2 cups grated parmesan reggiano-14oz
2 + 1 cups chopped pecans (pre-chopped) – 18oz
2 cups Panko bread crumbs- 10oz
1/2oz kosher salt-
1/2oz black pepper
– Put all ingredients (EXCEPT 1 cup pecans) together.
– Grind until a rough fine chop (2 minutes).
– Remove from bowl & put into a plastic 3rd pan
– Add in last cup of chopped pecan & mix with hands until you can see pieces of pecan spread throughout the mixture
– Cover with an airtight lid & refrigerate
– Label, date, rotate & store
Coconut-Crusted Shrimp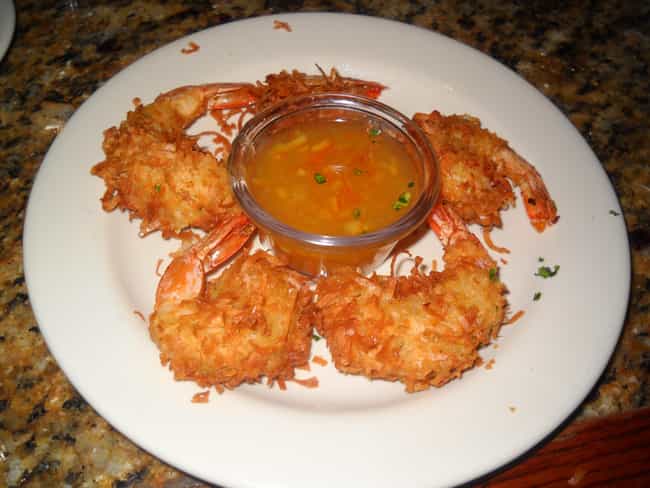 1 cup finely chopped mango
2 tablespoons Asian fish sauce (nam pla)
1 tablespoon fresh lime juice
2 tablespoons brown sugar
1 teaspoon chopped jalapeno
1 tablespoon finely chopped red onion
1 teaspoon minced garlic
1/4 cup chopped fresh cilantro , plus additional for garnish
1 pound large shrimp , peeled and deveined
1 teaspoon kosher salt , plus additional
2 cups unsweetened coconut flakes
2 tablespoons all-purpose flour
2 large egg whites , lightly whisked
Vegetable oil , for frying
To make sauce:
– In a medium bowl, combine mango, fish sauce, lime juice, brown sugar, jalapeño, onion, garlic and cilantro.
– Stir until sugar is dissolved.
– Set aside.
To prepare shrimp:
– Rinse and pat dry; sprinkle with salt.
– In a small bowl, mix together coconut and flour.
– Spread onto a large plate.
– Dip each shrimp into egg whites.
– Roll in the flour mixture to coat thoroughly.
– In a 9-inch frying pan over high heat, add about 1 inch oil.
– When oil is sizzling, add 2 or 3 shrimp at a time.
– Cook until coconut is golden brown.
– Remove shrimp with a slotted spoon and transfer to a plate lined with a paper towel.
– Sprinkle shrimp with additional salt while still hot.
– Serve warm with mango sauce; garnish with cilantro.
Warm Mango Salsa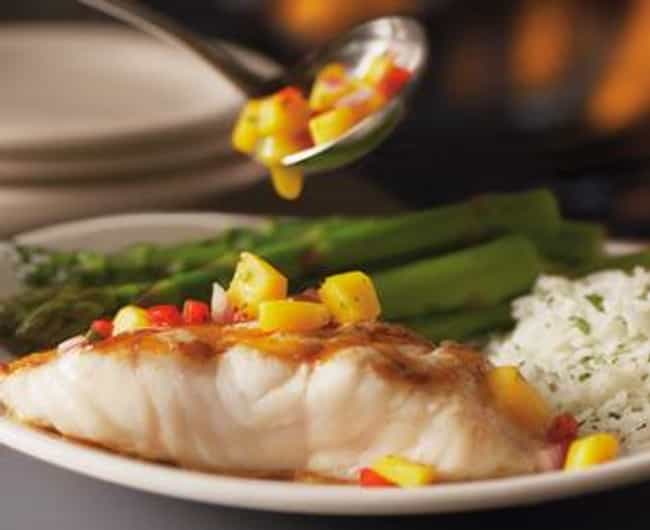 2 each or 2½ cups Firm, fresh mangos
2 tbsp Fresh red pepper, diced
1 tbsp Fresh garlic, chopped
¼ cup Red onion, diced
1 tbsp Olive oil
¼ tsp Crushed red pepper flakes
3 tbsp Light corn syrup
1 tbsp Granulated sugar
2 each or 2 tbsp Scallions, chopped
¼ cup Cilantro, chopped
– Peel, seed and dice mango.
– Place 2 cups of mango into a large bowl with garlic and red pepper– reserve ½ cup of mango.
– Place reserved mango in blender and puree until smooth. Combine with diced mango, garlic, and red pepper.
– Heat olive oil in small sauté pan – add red onions and cook until tender (about 2 to 3 minutes).
– Place on paper towel to absorb any excess oil.
– Combine with all remaining ingredients and add to bowl with mango.
– Mix well.
– Pour into a small sauté pan and heat for 1 to 2 minutes – until warmed.
– Remove from heat and stir in scallions and cilantro.
– Serve immediately over fish.
Florida Cobb Salad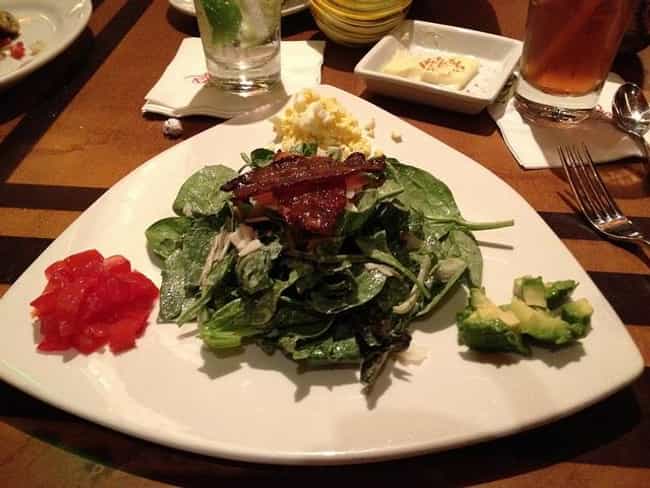 2 Chicken Breasts
1 Tbs Jerk Chicken Seasoning
1 Head Bibb Lettuce – Rinsed and Chopped
1 Head Romaine Lettuce – Rinsed and Chopped
1 Mango – Peeled and Diced
1 Avocado – Diced
1 Cup Cherry Tomatoes
1 Can Hearts of Palm – Cut into 1″ pieces
1/2 Cup Pine Nuts – Pan Roasted
3/4 Cup Blue Cheese Crumbles
Bonefish Grill Citrus Herb Vinaigrette
– Season chicken breasts with jerk seasoning.
– Grill chicken until no longer pink in center.
– Slice chicken into strips.
– Assemble all ingredients in a large bowl.
– Toss with vinaigrette and top with grilled chicken.
– Serve with crusty bread and olive oil for dipping.
Grilled Gulf Grouper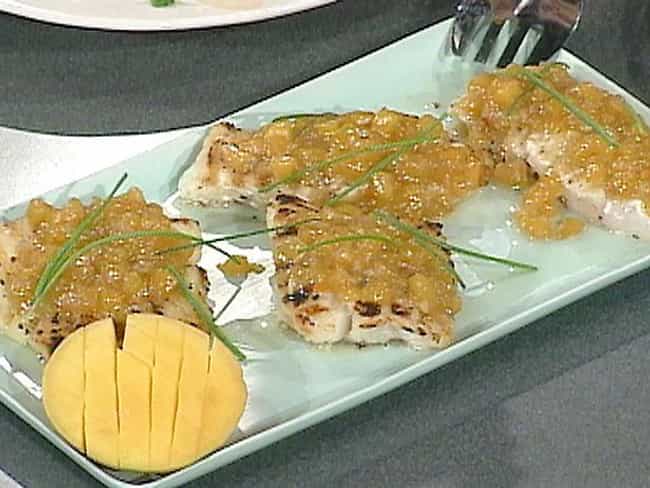 4 Each 6 Ounces Fresh Gulf Grouper, skin off
2 Table Spoon(s) Olive Oil
To Taste Salt & Pepper
– Heat a large saute pan over high heat
– Add olive oil to coat the bottom of the pan
– Season the fish with salt and pepper
– Sear the fish on both sides for 3 – 4 minutes each side.
– If your grouper is thick, you will need to finish it in a 350 degree oven for about 5 minutes
– Divide the arugula between four plates
– Place the grouper on top of the greens
– Top the fish with a pinch of the pickled red onions and garnish with fresh Satsujma segments and a final drizzle of the mignonette
INTERESTING FOR YOU