Cheddar's Casual Cafe recipes, yum! If you've ever wanted to recreate your favorite dishes from the Cheddar's Restaurant menu at home, this is the guide for you! These copycat recipes are based on the methods they use and are modeled closely on the flavor and texture of Cheddar's Casual Cafe's food, making it easier than ever to recreate Cheddars recipes and bring these great tastes to your house for cheap.
From the cheesy biscuits at Red Lobster to the amazing sauces at Buffalo Wild Wings, it's always tempting to go out for a delicious treat at one of the numerous chain and franchise restaurants dotting the landscape. But eating out at restaurants all the time can be a costly proposition. Not to mention the fact that, at restaurants, you have no portion control, and can't alter the recipes, ingredients or style of cooking to suit your own taste.
Cheddar's Casual Cafe was founded in 1979 in Arlington, TX. Known simply as "Cheddar's," the chain operates more than 80 restaurant through the US, mainly in the South and Midwest. Cheddar's serves "homemade favorites" made in-house, from hand-breaded chicken tenders to smoky burgers with signature sauce. Try the new Texas Sweet Tea cocktail, made with Firefly Sweet Tea Vodka, Amaretto, and lemonade.

Red Velvet Dessert Mini
1/2 cup butter
1 1/2 cups white sugar
2 eggs
1 cup buttermilk
1 fluid ounce red food coloring
1 teaspoon vanilla extract
1 1/2 teaspoons baking soda
1 tablespoon distilled white vinegar
2 cups all-purpose flour
1/3 cup unsweetened cocoa powder
1 teaspoon salt
– Preheat oven to 350 degrees F (175 degrees C).
– Grease two 12 cup muffin pans or line with 20 paper baking cups.
– In a large bowl, beat the butter and sugar with an electric mixer until light and fluffy.
– Mix in the eggs, buttermilk, red food coloring and vanilla.
– Stir in the baking soda and vinegar.
– Combine the flour, cocoa powder and salt; stir into the batter just until blended.
– Spoon the batter into the prepared cups, dividing evenly.
– Bake in the preheated oven until the tops spring back when lightly pressed, 20 to 25 minutes.
–
Cool
in the pan set over a wire rack.
– When cool, arrange the cupcakes on a serving platter and frost with desired frosting.
Chocolate Trifle Dessert
1 (19.8 ounce) package brownie mix
1 (3.9 ounce) package instant chocolate pudding mix
1/2 cup water
1 (14 ounce) can sweetened condensed milk
1 (8 ounce) container frozen whipped topping, thawed
1 (12 ounce) container frozen whipped topping, thawed
1 (1.5 ounce) bar chocolate candy
– Prepare brownie mix according to package directions and cool completely.
– Cut into 1 inch squares.
– In a large bowl, combine pudding mix, water and sweetened condensed milk.
– Mix until smooth, then fold in 8 ounces whipped topping until no streaks remain.
– In a trifle bowl or glass serving dish, place half of the brownies, half of the pudding mixture and half of the 12 ounce container of whipped topping.
– Repeat layers.
– Shave chocolate onto top layer for garnish.
– Refrigerate 8 hours before serving.
Baby Back Ribs
2 full racks (quartered) baby back ribs
1-quart beef broth
2 cups barbeque sauce (recommended: Bullseye Original Barbeque Sauce)
1 cup honey
– Place ribs and beef broth in a large heavy pot or Dutch oven.
– Add enough water to fully cover ribs.
– Simmer over low heat for about 1 hour.
– Once tender, remove and set aside.
– Preheat the grill to medium heat.
– In a medium bowl, combine barbeque sauce and honey.
– Baste ribs generously with sauce and grill for about 4 minutes on each side or until desired degree of doneness.
Chicken Caesar Pasta Salad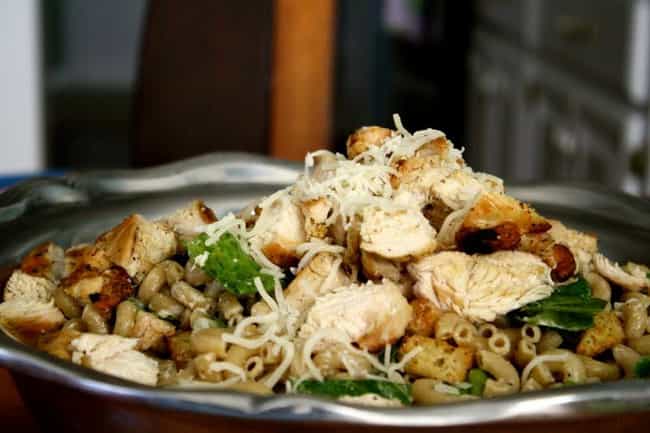 1 pound dry penne pasta
1 tablespoon butter
6 skinless, boneless chicken breast halves – cut into 1 inch cubes
1/2 teaspoon ground black pepper
1/4 teaspoon salt
1 (8 ounce) bottle Caesar salad dressing
1/4 cup red wine vinegar
1/2 cup grated Parmesan cheese
1 head romaine lettuce – rinsed, dried and shredded
1 large tomato, chopped
– Bring a large pot of lightly salted water to a boil.
– Add penne pasta and cook for 8 to 10 minutes or until al dente; drain.
– Melt butter in a large skillet over medium heat.
– Add chicken, pepper and salt.
– Cook 10 minutes or until chicken is cooked through.
– Remove skillet from heat.
– In a bowl, mix together salad dressing, vinegar and cheese.
– Toss together pasta, chicken, lettuce, and dressing mixture.
– Place in large serving bowl, and sprinkle with tomato.
– Garnish with croutons and Parmesan curls.
Hawaiian Chicken Salad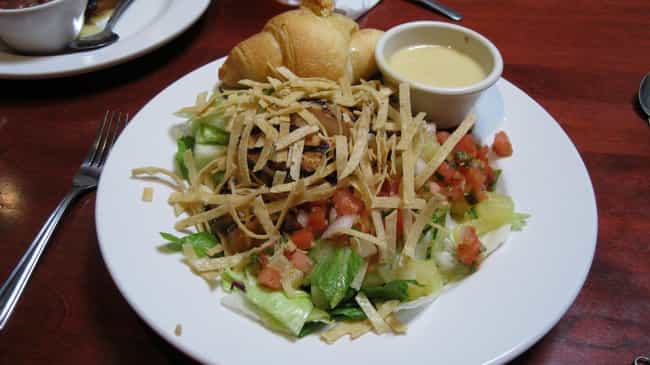 2 (3 ounce) packages cream cheese, softened
1/3 cup creamy salad dressing, e.g. Miracle Whip ™
1 (8 ounce) can pineapple tidbits, juice reserved
3 (5 ounce) cans chunk chicken, drained
1 cup blanched slivered almonds
1 1/2 cups seedless grapes, halved
– In a medium bowl, beat cream cheese until fluffy.
– Mix in salad dressing and 2 tablespoons reserved pineapple juice.
– Stir in the pineapple tidbits, chicken, almonds, and grapes until evenly coated.
– Chill until serving.
Roasted Pear Spring Salad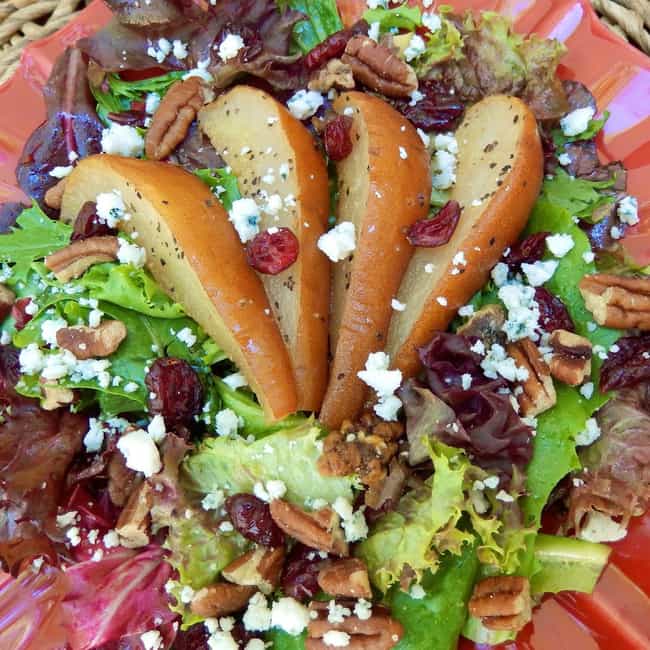 3 pears, halved and cored
1 tablespoon butter, melted
1 teaspoon granulated sugar
1 teaspoon lemon juice
4 cups mixed greens
3/4 cup crumbled blue cheese
1/2 cup walnuts, toasted
1/2 cup vinaigrette
– Preheat the oven to 400F.
– Cut each pear half into 4 lengthwise slices.
– Gently toss the pears in the butter, sugar and lemon juice and then place them on a parchment-lined baking sheet
– Roast the pears for 20 to 30 minutes, stirring every 10 minutes, until they have turned golden brown.
– Allow the pears to cool to room temperature.
– Divide the mixed greens, blue cheese, walnuts, and viniaigrette – shallot dressing is a good one – between 4 salad plates.
– Arrange the pears on top of the salads and serve.
Virgin Daiquiris
3 1/2 ounces frozen strawberries
1/8 cup ice
1/2 fluid ounce sweet and sour mix
1 dash grenadine syrup
– Place strawberries, ice cubes, sweet and sour mix and grenadine in a blender.
– Blend until smooth.
– Add more ice or less depending on your taste.
INTERESTING FOR YOU