When you've been in the business for 45 years, and have been famous for over 38 of them, becoming world-weary is inevitable. As he's advanced in his career, and in his life, Harrison Ford has grown tired of ridiculous interview questions and pointless fan interactions. Even his roles have become more grumpy – Colonel Graff from Ender's Game, Mike Pomeroy from Morning Glory, and Colonel Dolarhyde from Cowboys & Aliens weren't exactly fuzzy, feel-good characters.
Like a Wookie who might tear your arm out of your socket if he loses a game of space chess, Harrison Ford's inner curmudgeon is awakened with a vengeance any time a reporter or fan asks him a boring stock question about Star Wars or Indy. He's notorious for letting his grump flag fly on promotional junkets, where some questions about acting or working on the film illicit the response: "I don't know anything about it. I just work here."
Ford has tried to explain where his crankiness stems from. He said, "What I've noticed, is that reporters do their research and pick up the same things over and over again. There's some big, low-lying fruit that they grab, and then they repeat. And they come with the expectation that I'm going to be difficult to transact business with." He's not a man who suffers fools – or Wookies – gladly, and he's not afraid to show interviewers his intolerance for stupidity.

He Loved This Super-Cut of His On-Screen Angry Pointing
The geniuses at Late Night with Conan O'Brien put together a super-cut of every time Harrison Ford pointed at something angrily. Ford loved it. 
He Really Couldn't Answer Star Wars Questions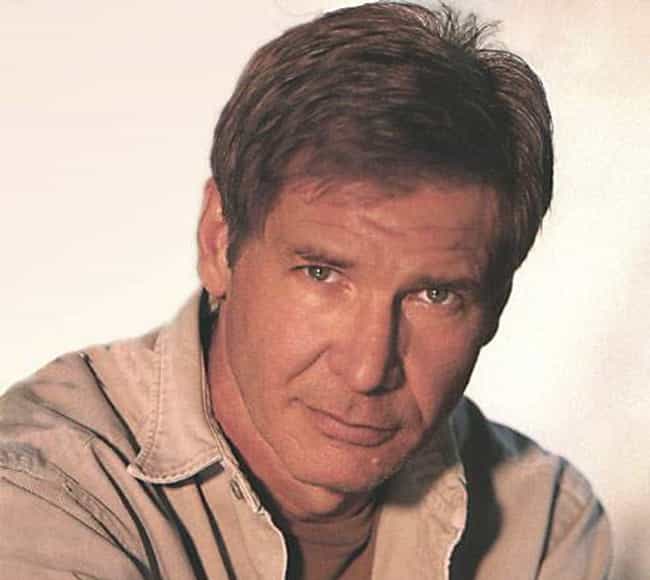 In an interview with John Hiscock from 

Mirror

, everything was going along pretty well until Ford was asked about the 

Star Wars

 reboot. "No 

Star Wars

 questions," he insisted, likely because he'd get in major trouble for revealing any inside scoops.
Ford then smiled to let the interviewer know that they're both in on the joke. "I'm a kinder, gentler, Harrison Ford than I was," he grins. "Am I grumpy? I might be. But I think maybe sometimes it's misinterpreted. I've always been an independent son of a bitch, so if I'm grumpy, then call me grumpy. I'm alright with that."
Copy that, HF.
Source: 
Mirror
When Told Everyone He Was Absolutely Over It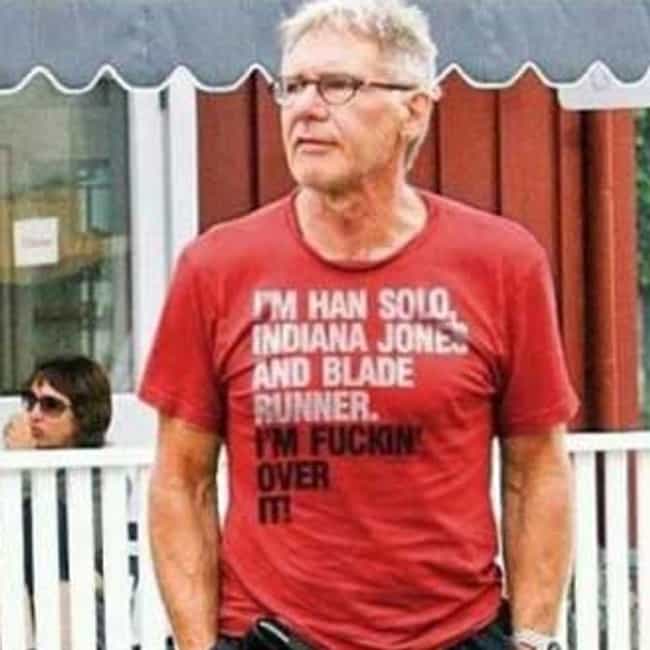 After seeing Ian McKellan debut his famous "I'm Gandolf & Magneto" t-shirt, Harrison Ford decided to buy a tee of his own. His reads, "I'm Han Solo, Indiana Jones, and Blade Runner. I'm F*ckin' Over It!" That should quell any fan questions about his most popular
movies
!
When He Sarcastically Bantered With Comic-Con Fans
During a panel for

 Ender's Game

 in 2013, a fanboy asked, "If Han Solo and Indiana Jones were to meet, what would they say to each other?" Chris Hardwick knew that the fan was skating on thin ice, and tried to cut him off by saying, "I want to stop you right there." But after a moment, he conceded, "Okay, just do it. I want to know, too."  
Ford gave his patented grumpy look and said, quite sarcastically, "Hi. How are you?" And then he shrugged and shook his head.
A second fanboy jumped to his feet immediately after the above reaction and asked, "I used to pretend to be Indiana Jones when I was a kid […] Do you think Han Solo would be a good soldier for [Colonel Graff's] army?" Ford replies, "You and I have a lot in common. I used to dream about being Indiana Jones when I was younger, too. Not so much anymore. And I don't think Han Solo would be good in anybody's army. I think he's what we call now an independent contractor."
He Ranted About Autograph Seekers on Letterman
At 3:05 in the video, Letterman compliments Ford on signing autographs outside before the show.  
Ford says, "You had a camera outside when I arrived. And the audience is going to see me, and if I don't go over there, they're going to think 'What kind of a [long pause], what kind of a guy wouldn't go over there. There's a little boy over there. He's a sweet little… he's a 45-year-old man in a boy suit. Those
people
are not fans. Those people are merchants. Autograph merchants. They're making an incredible living off of you and me."
Letterman doesn't think they're making any money off of him, but Ford is insistent.
Letterman asks, "So you're saying, Harrison, that if the camera hadn't have been there, you wouldn't have signed those autographs?"
Ford replies, "Yeah."
Video 
here
.
He Called Out Shia LaBeouf For Being an Idiot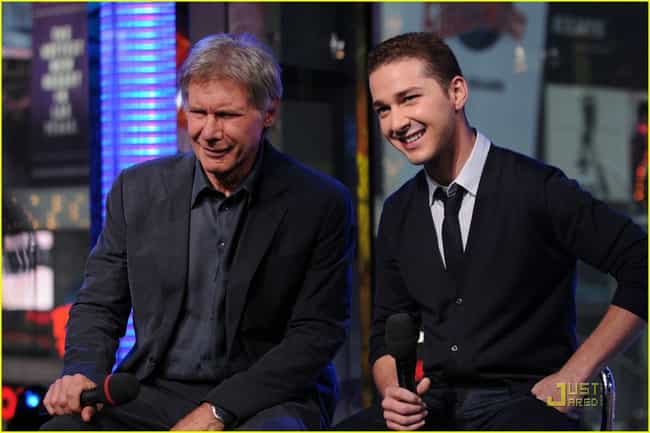 When 

Indiana Jones and the Kingdom of the Crystal Skull 

got mixed reviews, Shia LaBeouf apologized for "dropping the ball." He then claimed Ford agreed with him;  the film could have been better.  
The film grossed over $800 million, and Ford called LaBeouf out for being a "f*cking idiot" for speaking ill of the movie in interviews.
"I think he was a f*cking idiot. As an actor, I think it's my obligation to support the film without making a complete a** of myself. Shia is ambitious, attentive, and talented –  and he's learning how to deal with a situation which is very unique and difficult."
Source: SF Gate
INTERESTING FOR YOU