Child stars are worshipped by young, envious viewers, but it's no secret that the lives of these impressionable actors often end up dramatically and adversely affected. While the Disney Channel had a ton of great shows, they've also seen their fair share of controversy, usually when their stars grew up and turned on them – which is just one element of crazy 

Hannah Montana

stories that have surfaced since Miley left the series for real pop stardom in 2011.
What happened to the cast of 

Hannah Montana

? Sure, we watched the aftermath of Miley's experiences as a child star, but there's a lot that happened to her behind the scenes of 

Hannah Montana

 that offers some insights on her trying transition into adulthood. There were also a lot of people on the show who stood much further from the limelight (ones we may not have heard as much about) who struggled in various ways themselves. 
Here are some dark stories of 

Hannah Montana

 cast members who might not have faced the issues they did without the complication of Disney stardom in their lives. 
The Demands Of The Show Severely Strained Miley's Mental Health
Miley started working on 
Hannah Montana
 at the age of 11. As a child, she was working 12-hour days, and the amount of work quickly took its toll on her, eventually giving her anxiety to the point of having attacks. "Every morning, I was getting coffee jammed down my throat to wake me up," she 
told 

Marie Claire
. "I just had to keep going, be tough, be strong. Everything happened to me on that set."
She goes on to describe the way that anxiety seeped into her personal life, having breakdowns while spending time with her friends because she feared returning to work. Again, she was a child.
"I would have anxiety attacks. I'd get hot flashes, feel like I was about to pass [out] or throw up. It would happen a lot before shows, and I'd have to cancel. Then the anxiety started coming from anxiety. I would be with my friends, thinking, I should be having so much fun. You get in this hole that seems like you're never going to be able to get out of."
She Also Started Having Body Dysmorphic Issues
It's no surprise that 
Hannah Montana
 instilled in Miley unrealistic expectations of beauty. Given how young she was when she started pretending to be something she wasn't full-time, it was virtually inevitable. She went on in her 
interview with 

Marie Claire
:
"From the time I was 11, it was, 'You're a pop star! That means you have to be blonde, and you have to have long
hair
, and you have to put on some glittery tight thing.' Meanwhile, I'm this fragile little girl playing a 16-year-old in a wig and a ton of
makeup
."
Ultimately, among other issues, the result was something akin to an identity crisis, which played out very publicly as she transitioned into a real pop star.
"I was told for so long what a girl is supposed to be from being on that show. I was made to look like someone that I wasn't, which probably caused some body dysmorphia because I had been made pretty every day for so long, and then when I wasn't on that show, it was like, 'Who the f*ck am I?'"
Miley Had A Topless Photo Shoot As A Minor
At the height of her 
Hannah Montana
 popularity (while she was only 15), Miley Cyrus had a photo shoot with Vanity Fair, posing topless while covered with a sheet, sometimes even with her father in the image. 
Huffington Post
 covered it extensively at the time, reporting Miley's statement that she was "embarrassed" and photographer Annie Leibovitz's tepid apology, who said, "I'm sorry that my portrait of Miley has been misinterpreted."
Disney subsequently released a statement that one could only describe as rich, saying: "Unfortunately, as the article suggests, a situation was created to deliberately manipulate a 15-year-old in order to sell magazines." It seems that no one had the best interests of the child in mind, a sad reality that continued into Miley's adulthood.
Billy Ray Claimed The Show "Destroyed" Their Family
Billy Ray painted a bleak picture of the Cyrus family as the show was winding down in 2010, 
telling GQ
, "I was going to work every single day knowing that my family had fallen apart, but yet I had to sit in front of that camera."
In 2011, immediately after 
Hannah Montana
 ended, Miley began a very controversial and very public transition into a role as an adult pop star. Watching it all play out was apparently quite difficult for Billy Ray, who told GQ at the time, "I'll tell you right now, the damn show destroyed my family… there's no doubt about it. Somewhere along the line, both mine and Miley's faith had been shaken."
Billy Ray reveals a lot in the interview, and it's clear that he felt a fair amount of disdain for everyone involved and the people around Miley who, per his description, were like vultures.
Miley and Billy Ray had something of a falling out after Hannah Montana. There was even a very public and strange scandal in which Miley appeared to accuse her father of cheating on her mother, which she did via Twitter.
She sent a tweet reading, "@billyraycyrus since you won't reply to my texts I'm giving you an hour to tell the truth or ill tell it for you." Attached was a picture of Miley herself posing with an unnamed woman, the insinuation being that Billy Ray had had an affair with this woman.
The tweet disappeared just a few minutes later and Miley posted something suggesting her account had been hacked, but the damage had been done, and both the tweet and picture are 
part of the public record
.
Moisés Arias Took A Picture In Bed With A 13-Year-Old Willow Smith
Another 
Hannah Montana
 alum saw his own controversy in 2014 after 
posting a picture
 of himself on
Instagram
in which he was shirtless and in bed with Willow Smith, who was 13 at the time. Arias was 20. Obviously, this was quite scandalous given the age discrepancy, but both young actors claimed it was innocent.
There really isn't any scenario in which a 20-year-old man should be in bed with a 13-year-old girl, especially when the man is shirtless. That said, there wasn't much outcry from the Smith family at the time, which is perhaps a little disconcerting in and of itself.
In Many Ways It Sounds Like The Show Destroyed Billy Ray Himself
In the 
GQ interview
, Billy Ray is adamant about the fact he "never made a dime off of Miley." His protestations sounded defensive, but what bothered him more was watching "the train [go] off the track" in terms of Miley's public life. On top of that, he felt like he was made a scapegoat for everything, she did – not by Miley, but her managers, who he claimed would always publicly blame him for her outlandish behavior at the time.
"Her people, or as they say in today's news, her handlers, every time they'd put me… 'Somebody's shooting at Miley! Put the old man up there!' Well, I took it, because I'm her daddy, and that's what daddies do. 'Okay, nail me to the cross, I'll take it.' … All those people around, they used me every time. It became so obvious that, man, no matter what happens, they're going to put you up there and let you take the bullet."
An armchair psychologist might suggest Billy Ray blamed himself for what became of Miley, hence his defensiveness about taking the blame. Regardless, it's clear that, at least in 2011, he lamented what the show did to his
daughter
 and his apparent helplessness to stop it.
"I've done some stupid crap—I do stupid crap. We all do. But it's different when you sit back and you see it happening to your little girl. I feel like I got to try. It's my daughter. And some of these handlers are perhaps more interested in handling Miley's money than her safety and her career."
A Lot Of People Felt They Were Underpaid
Miley herself felt she was underpaid for her work on 
Hannah Montana
, 
claiming to 

Elle
 she may have been making the least of all the cast as she and her family were too ignorant about Hollywood to know when they were being taken advantage of. The co-creators of the show may have even had a stronger claim to inadequate compensation.
Creators Michael Poryes, Barry O'Brien, and Richard Correll all filed complaints against Disney, claiming a breach of contract. O'Brien and Correll filed separately from Poryes, and that turned out to be an issue, as Disney actually settled with Poryes while the arbitrator sided with Disney in the case of the first two.
The Hollywood Reporter
 offered an in-depth analysis of the two cases, making a convincing argument that Poryes might have just lucked out by getting an arbitrator more inclined to side against the mega-corporation.
One Writer Even Claimed Disney Stole His Idea
Buddy Sheffield was a writer for the sketch
comedy
show 
In Living Color
, but he later moved into the realm of children's
entertainment
, writing a show for Nickelodeon called 
Roundhouse
 and pitching a show to Disney called 
Rock and Roland
. The story of the latter centered around an average middle schooler who was secretly a pop star under a pseudonym… if that sounds familiar it's because it's the exact plot of 
Hannah Montana
.
Though Disney reportedly showed interest, they ultimately passed on the idea. Then promptly created their own "unique" show. Though Disney refuted Sheffield's claims, they 
settled with him in 2008
.
Cody Linley Came To Work Drunk At 19
Cody Linley, who played Jake Ryan, AKA Miley's boyfriend on the show, came to set and tried to
film
a scene while completely drunk despite being only 19 years old. Though Linley never had a repeat performance, his credits since are on 
Dancing with the Stars
 and the fourth
 Sharknado
 movie.
It would be unfair to suggest that his career didn't take off because of that, but as he 
told MTV
 in 2016 that his character in 
Sharknado 4 
is exactly like the one he played on 
Hannah Montana
, describing it as "Jake Ryan 2.0," it seems he's at least been pigeonholed.
Mitchel Musso's Underage DUI Really Did Affect His Career
Musso played Miley's friend Oliver on the show. At the age of 20, he was arrested for a DUI the year 
Hannah Montana
 ended, and suddenly his career was jeopardized. He was written out of the Disney series 
Pair of Kings
, despite being one of the main characters, and a show he hosted called 
PrankStars
was canceled.
Fortunately for him, at least, he was released from jail for having no other offenses, but that didn't stop the career backlash he faced.
Then There Was The Leak Of Scandalous Photos Meant For Nick Jonas
While Miley was dating fellow Disney star Nick Jonas, racy pictures of her leaked online. One showed a bare midriff while another one showed her in a wet tee shirt. A large part of the scandal was due to the fact that the two were known to wear "purity rings," claiming they were abstaining from sex. Of course, sexually suggestive pictures of a minor are problematic enough.
There was speculation at the time that the photos may have been intentionally leaked as one of Miley's first public acts of rebellion. It's still unclear whether or not that was the case.
Billy Ray's Career Didn't Really Rebound After The Show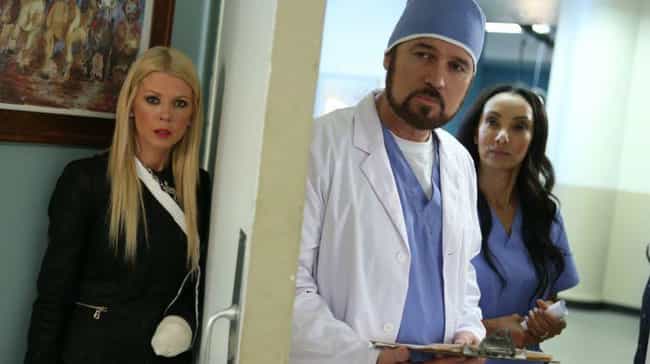 Hannah Montana
 was a rebirth for Billy Ray Cyrus who had effectively disappeared from the limelight after his hit single "Achy Breaky Heart" in 1992. He surged back into stardom with the ascension of his daughter and remained there even after the show ended and their relationship faltered. But most of his contemporary fame is as Miley Cyrus's dad, more than anything else.
Since 
Hannah Montana
, his most notable work has been 
Sharknado 2: The Second One
, but even that is little more than a running joke. It seems Billy Ray's stardom is well and truly behind him.
Hannah Montana Was So Damaging To Miley Because It Happened During Her Formative Years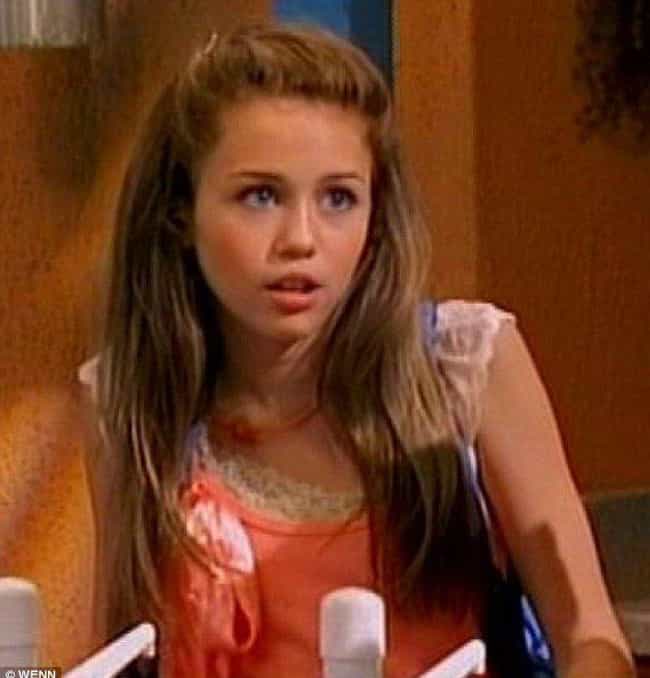 One of the more heartbreaking experiences Miley had while making 
Hannah Montana
 was getting her first period on set in white pants.
"It was so embarrassing, but I couldn't leave," she 
told Marie Claire
. "And I was crying, begging my mom, 'You're going to have to put the tampon in. I have to be on set.'"
What's more devastating about Miley's first time, though, is that it's the perfect metaphor for the soullessness of everything and everyone involved in the life of a child
actor
, especially
parents
, and Miley actually 
lived
 that metaphor. The Cyrus family could have taken that moment to reflect on just what they were doing to their daughter, but instead, they kept her in that debased and parasitic environment.
If only they had asked themselves who they were helping: Their daughter? Or themselves?
INTERESTING FOR YOU