Plenty of makeup fans were disappointed to find out that Rihanna's Fenty Beauty blotting sheets, which were rumored to double as rolling papers, were actually pretty terrible for rolling a joint. Though the musician-turned-beauty mogul hasn't yet ventured into the world of 420-friendly makeup (despite the rumors), plenty of indie companies have stepped in to celebrate our affinity for the devil's lettuce.
You know what happens to a brain on marijuana, but what about a face? Marijuana makeup almost always utilizes hemp seed oil, which is ultra-hydrating and can heal dry, blotchy skin (say goodbye to those patchy red spots!). Some makeup for weed lovers even contains CBD oil, which has been proven to reduce anxiety and depression. Other weed makeup simply celebrates our love for glitter and cannabis leaves. Hey, not everything has to have a medicinal purpose, right?
These 420-friendly makeup products are pretty darn chill – almost as chill as lighting up your vape pen and watching some Netflix.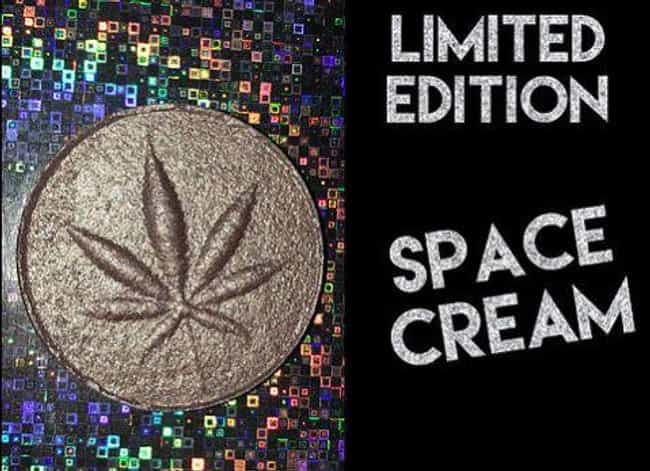 Too High Cosmetic's limited-edition Space Cream highlighter may not have actual weed in it, but there's definitely weed on it (sort of). It has a far-out amount of shimmer, it's stamped with a pot head-approved marijuana leaf, and it's jam-packed with hemp seed oil to give it a buttery texture.
This tiny pot happens to be on sale from Too High Cosmetics for a very affordable $8, but orders can take up to six weeks to arrive since it's all made to order.
Roll + Blot Blotting Papers By Milk Makeup
For the weed-lover on the go, Milk Makeup's Roll + Blot blotting papers are a two-in-one. Get rid of excess oil and roll a fat jay with the same product! Each $10 book comes with 100 sheets that Milk urges you to use as "blotting papers, rolling papers, or delicate love letters."
Hot Singles Eyeshadow In Kush By NYX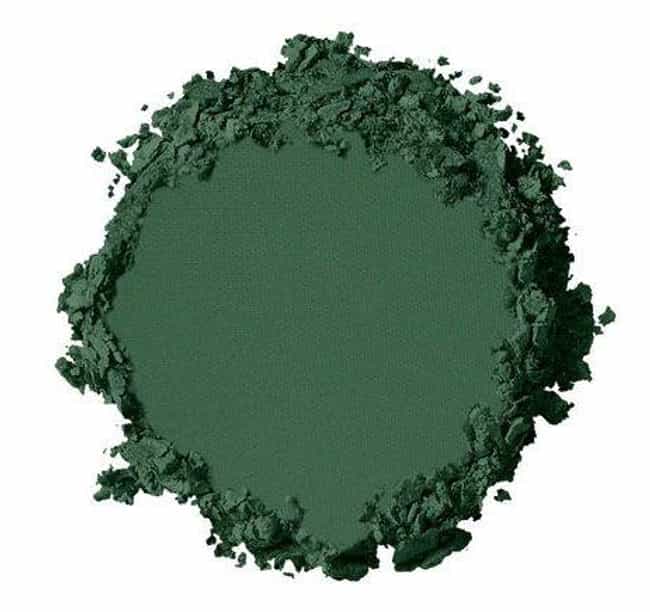 NYX is trusted by makeup artists and drug store beauty shoppers alike, so you know it's quality and affordable. It's also subtly 420-friendly, thanks to a shade of the brand's highly-pigmented Hot Singles eyeshadow named "Kush." This dark, matte green is bold while being totally wearable. Plus, it retails for just $3.15.
The 420 Palette By Too High Cosmetics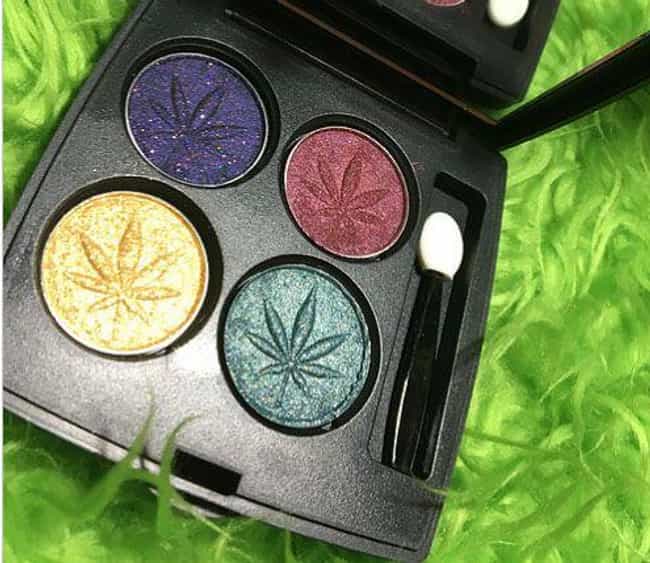 Too High's 420 palette is a beauty and weed enthusiast's BFF (besides her vape pen). Each shimmery shade is stamped with either a too-cute cannabis leaf or THC monogram. Sadly, the pigments don't include weed (bummer), but you've got 44 weed-inspired eyeshadow strains to choose from. Try the bold, glittery cadmium called "Blueberry Yum Yum" or the muted, shimmery yellow "Lemon Diesel."
Weed-Infused Lip Balm By GOODWITCH
GOODWITCH pushes the boundaries of self-care with her healing marijuana-infused products. This secretive, underground company handcrafts THC-infused lip balms, oil sprays, and personal lubricant out of an apartment in Bed-Stuy, Brooklyn.
Since recreational weed still isn't legal in New York, GOODWITCH products are only available through the underground. Though the anonymous creator behind the products has been featured on major fashion and beauty sites like Refinery29, how to get your hands on her coveted, healing lip balm remains a highly-protected secret.
Hemp Heavy-Duty Face Protector By The Body Shop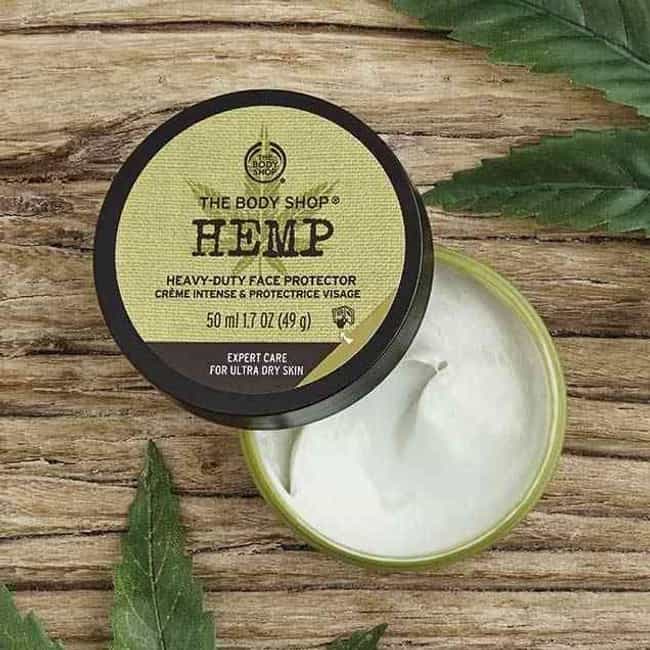 Winter can be tough on everyone's face (hello, dry, flaky skin!). Thankfully, the healing powers of mamma Mary Jane can give you back your summer glow. The Body Shop's Hemp Heavy-Duty Face Protector soothes and hydrates dry skin. It also provides instant relief to cracked, flaky patches. Get it on Amazon for around $16.
Big Fatty Mascara By Urban Decay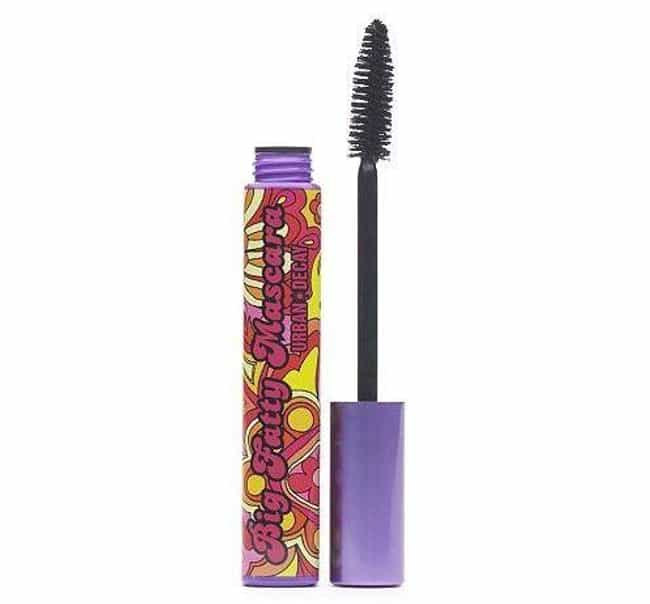 Urban Decay is widely known for their coveted Naked palettes, but their Big Fatty Mascara is just as awesome. Don't believe it? The fact that it's sold out almost everywhere really says something. If you manage to get your hands on this hemp seed oil-infused formula, you'll probably also enjoy the cute, psychedelic packaging.
CBD Healing Skin Balm By Cannuka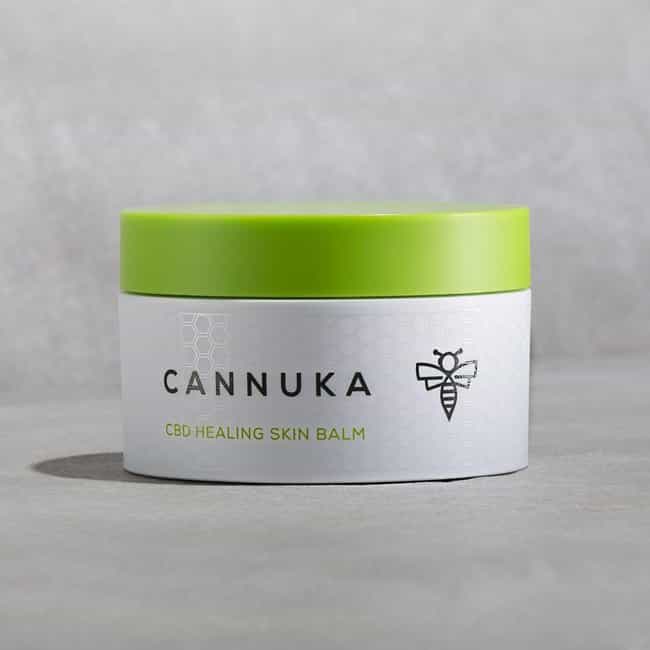 Cannuka's ultra-rich balm nourishes and protects dry skin with honey and cannabis CBD, derived from hemp. Its calming properties are great for easily irritated skin, and it's gentle enough to be used everyday. You can try it yourself for $58.
Cherry Kush Lip Balm By Nirvanatastic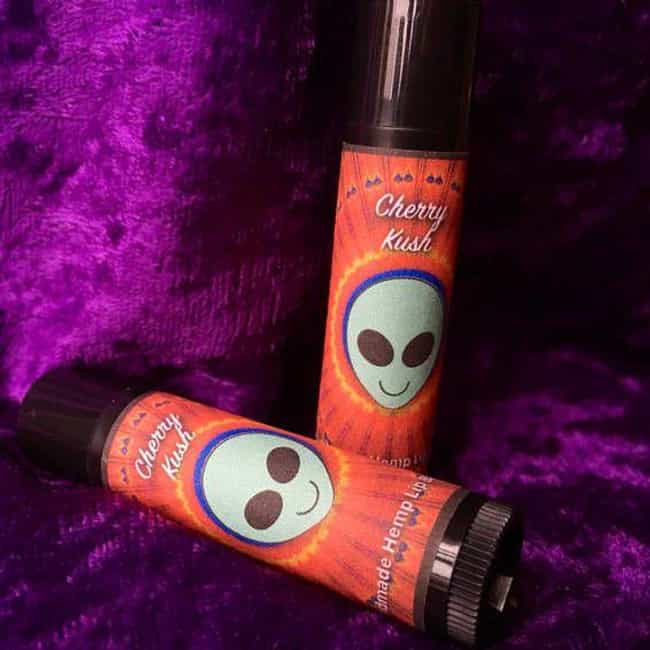 What's better than cherry Chapstick? A weed-themed cherry Chapstick packed with healing hemp seed oil. This adorable lip balm, in the aptly named flavor "Cherry Kush," is ultra-hydrating. The packaging is also super cute. Who doesn't love aliens and tie dye? Get it from Etsy for $1.50.
Blue Berry Kush Highlighter By Bitch Slap Cosmetics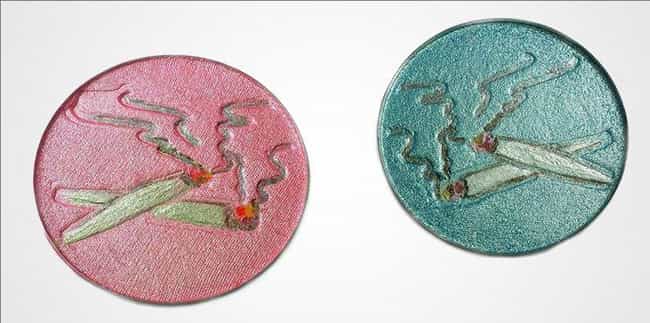 Bitch Slap Cosmetics may have left the actual weed out of their Blue Berry Kush highlighters, but that doesn't mean they're not 420-friendly. These intricate highlighters will show off your passion for pot with a detailed, stamped-in blunt design, and they retail for $20.
Organic Hemp Shimmer Stick By Bear's Beauty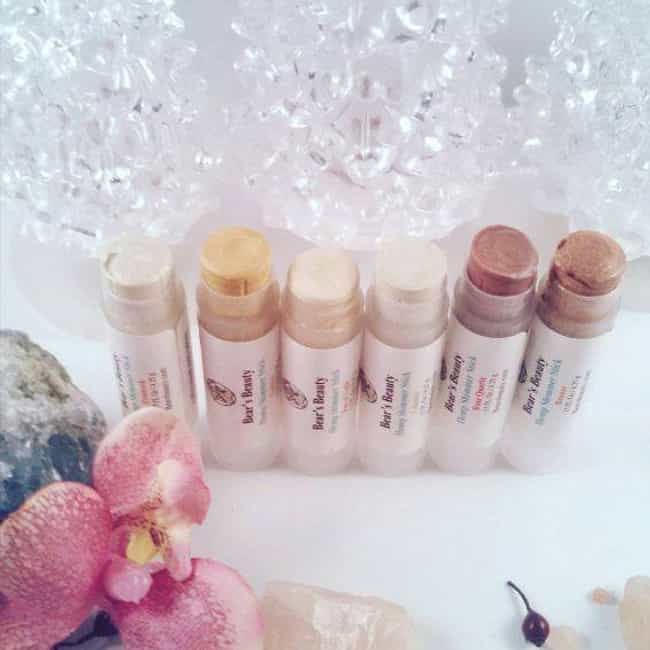 Nothing like a little weed to give you a healthy glow! This vegan shimmer stick by Bear's Beauty may not contain actual marijuana, but it does contain organic hemp seed oil. The stick also heals as it adds glimmer – the balm is packed with antioxidant and anti-inflammatory benefits. Pick up a stick for around $8.
Gold Flake Hemp Lipstick By Kimmy Cosmetics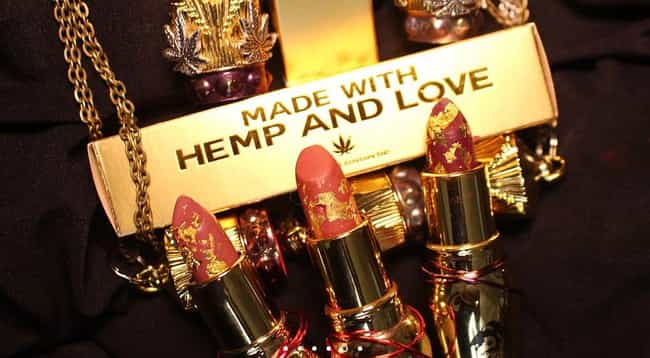 Tattoo artist-turned-YouTube star Kimmy Tan launched a line of vegan and cruelty free lipsticks called Kimmy Cosmetics. Her gold leaf lipsticks aren't just ultra-lux, they're infused packed with hydrating hemp seed oil. If that wasn't enough to get your Mary Jane senses tingling, the packaging features big, gold cannabis leaves. Individual lippies start at $9.99.
Hemp Lip Gloss By CBD Care Garden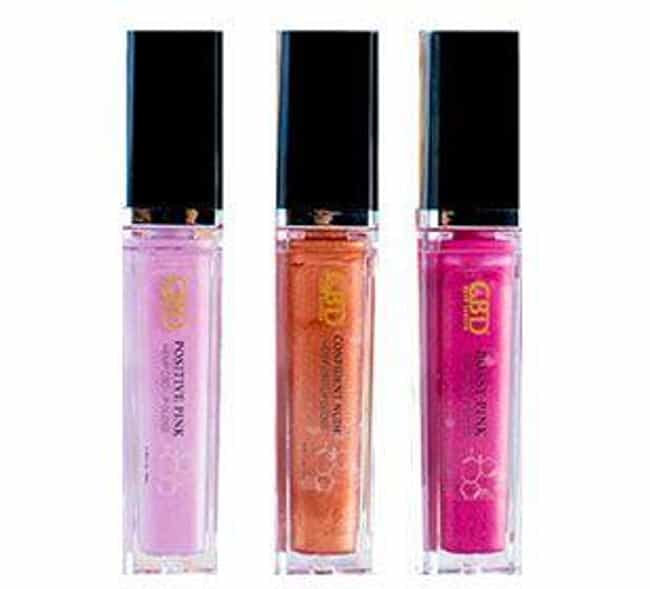 This creamy, non-sticky lip gloss by skincare brand CBD Care Garden is crafted from pure hemp cannabidiol (a.k.a. CBD cannabis oil). CBD oil is derived from the cannabis plant but devoid of THC, so it's totally legal (and maybe a little less fun). That doesn't stop it from being widely beneficial. According to some studies, CBD oil has anti-anxiety and antidepressant effects, making this lip gloss the perfect thing for socially anxious gals who have a habit of reapplying their lip gloss when they're nervous.
Currently, the $43 lip gloss is sold out online, but if you manage to get your hands on a tube, you'll be treated to fun scents like cotton candy and strawberry.
Kush Mascara By Milk Makeup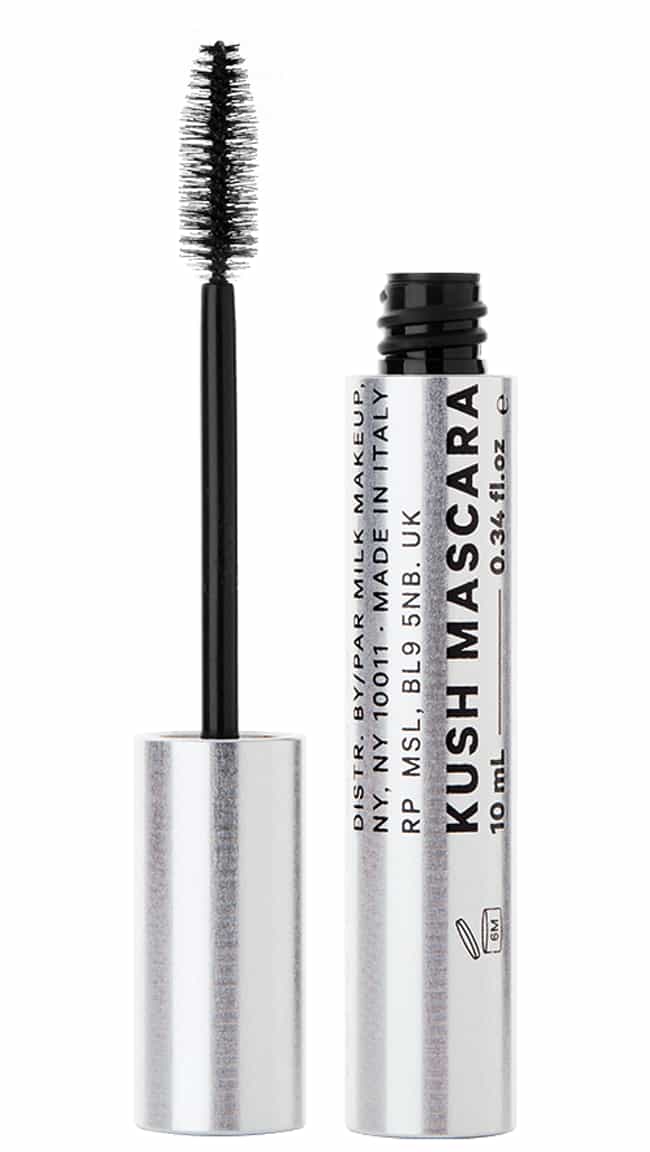 Milk Makeup rolled out a cannabis-infused mascara in April 2018. The new product – dubbed Kush Mascara – both lengthens lashes and adds volume thanks to cannabis oil. Plus, the oil conditions lashes and leaves them looking soft.
Beverly Hills Grass Eyshadow By Lubov Cosmetics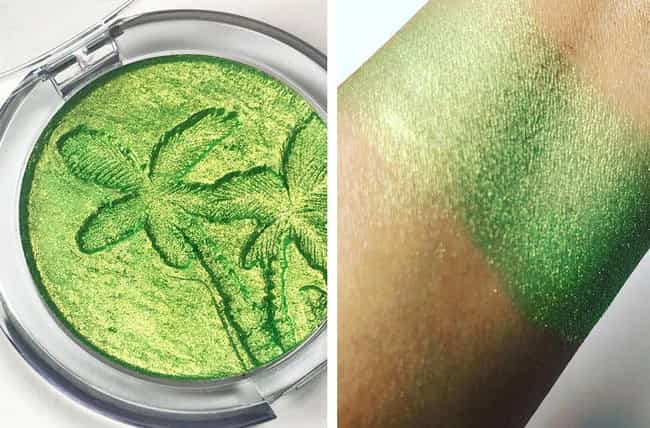 Nashville-based Lubov Cosmetics handcrafts vegan and cruelty-free makeup packed with gorgeous shimmer. While their unicorn eyeshadows are arguably the most trendy, their kush-inspired shade "Beverly Hills Grass" is perfect for the 420-loving gal. This lime green shade has a gorgeous golden shimmer shift and is made with organic, raw cold-pressed hemp seed oil. Get it on Etsy for an affordable $6.99.
Kush Brow Gel By Milk Makeup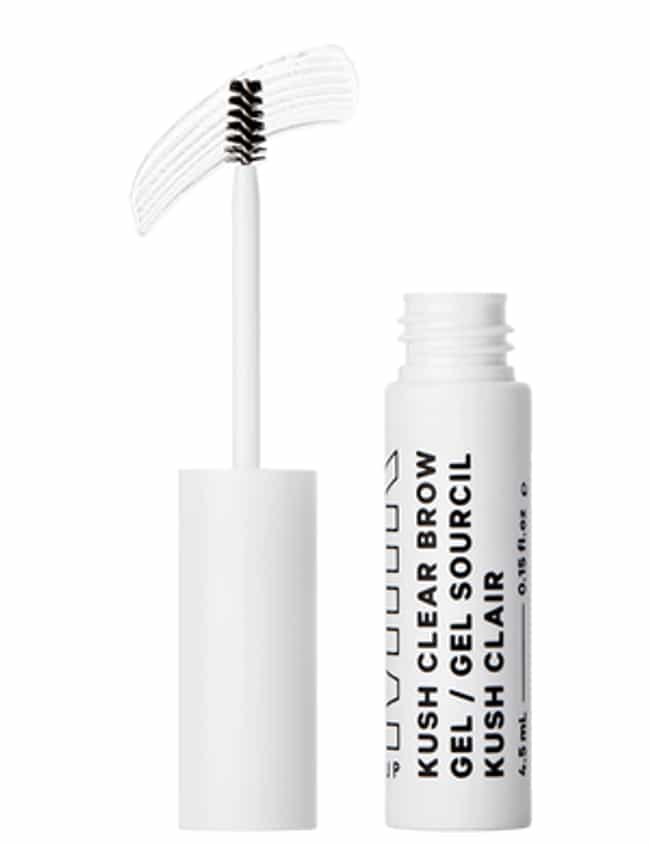 Milk Makeup is quite the fan of using cannabis in the products. The brand launched their Kush Brow Gel in June 2018. The CBD-infused brow gel comes in four shades: Hydro (clear), Haze (blond), Dutch (medium), and Grind (black-brown). The CBD and cucumber extract in the product helps tame flyaway brows while conditioning them. The gel also has heart-shaped fibers, which give brows a fuller, healthier appearance.
Hemp Eyeliner By NativeMinerals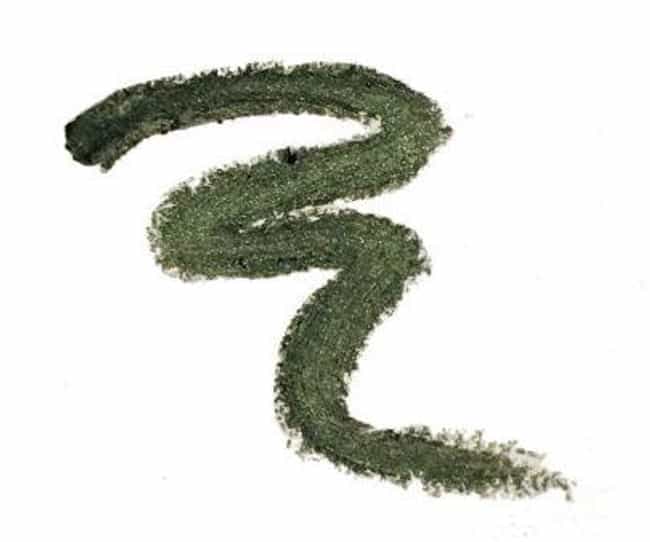 Crafted from organic hemp seed oil, this vegan eyeliner from NativeMinerals is the perfect swipe of color for those who can't get enough sticky icky. Not only is this product handcrafted, but it's ultra-wearable. The smooth, dark green formula brings out the green in hazel and blue eyes and makes brown eyes look richer. Get it from Etsy for $14.
Modster Big Mascara By Ardency Inn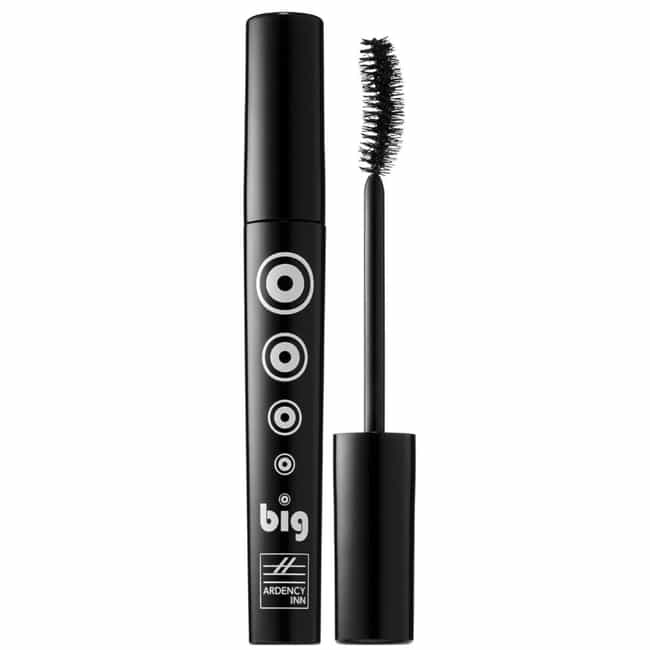 You won't get high with Ardency Inn's Modster Big mascara, but you will get fabulous results. This eye-popping mascara is boosted with hemp protein to give you stronger, thicker lashes. The product retails for $25, but Allure swears it will "give you the best lashes ever." Kind of worth it, right?
KUSH Lip Glaze By Milk Makeup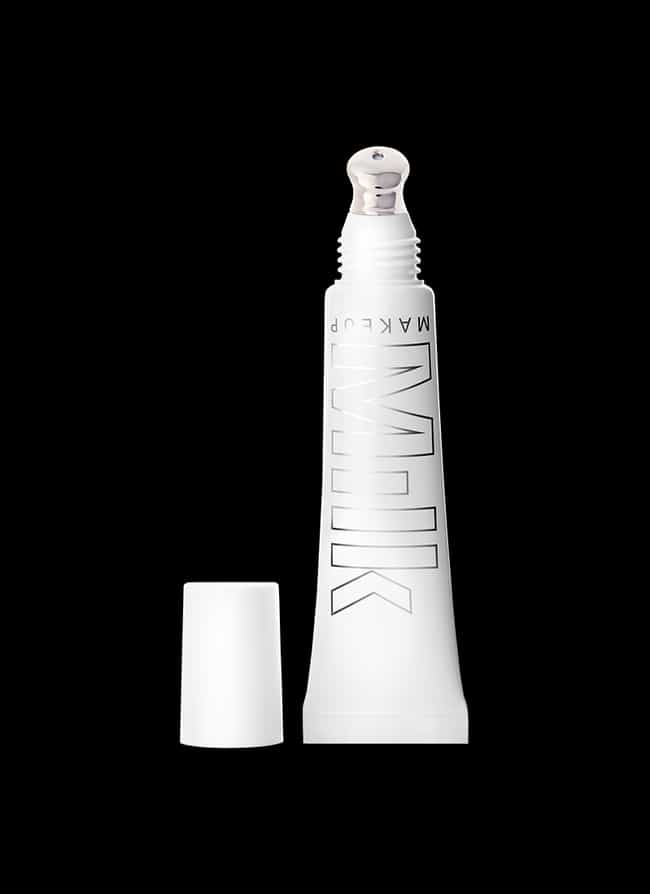 The latest in the Kush line from Milk Makeup is the Kush Lip Glaze, a "high shine lip mask" designed to be worn at night to hydrate the lips. Pairing the conditioning properties of hemp-derived cannabis oil with jojoba and olive oils, plus shea, cocoa and mango butters, this deep hydrating gloss goes on with a slick green tint and the faint flavor of sage and peppermint oil.
Hemp Originals Lipstick By Colororganics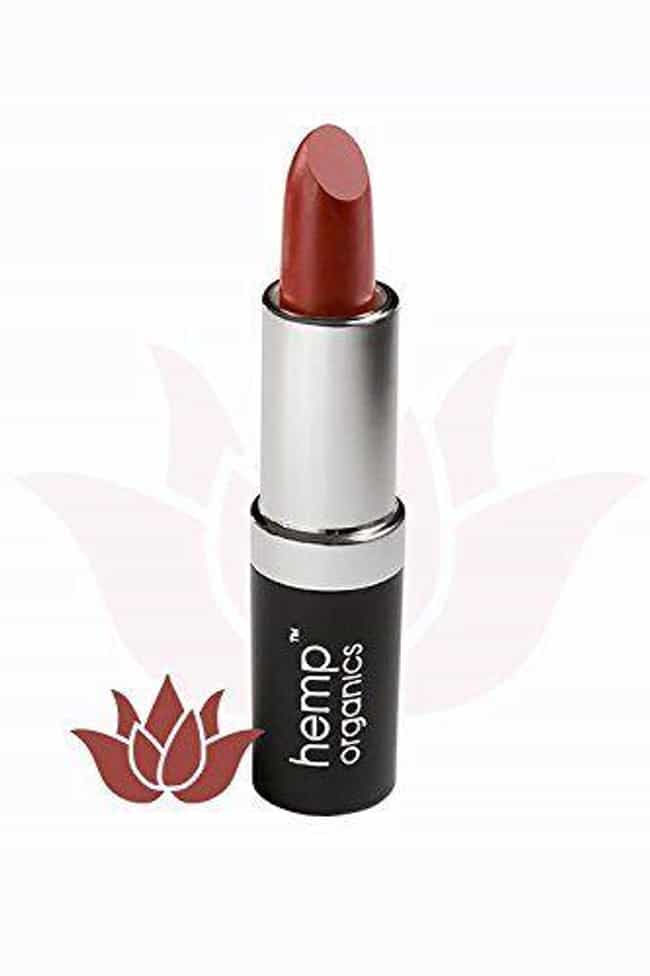 The Hemp Organics line of lipsticks from Colororganics use deeply hydrating hemp oil to help keep your pout peel-free and plump with their semi-sheer lipsticks. Available in colors from the soft Purple Haze, with touches of blue and pink, to a blazing red Cayenne, they're as beautiful as they are buttery-soft.

INTERESTING FOR YOU