Rihanna tattoos has tattoos including everything from birth dates, Henna-style tribal designs, weapons and some of the singer's favorite quotes. What tattoos does Rihanna have, and what are the meanings behind Rihanna's tattoos? The recording artist from Barbados uses her tattoos like she does her music, to express herself and show the world what is near and dear to her heart.
Born Robyn Rihanna Fenty, Rihanna burst onto the music scene in 2005 after then-Def Jam label head Jay-Z took her under his wing and offered her a contract. Millions in album sales and four Grammy Awards later, the R&B singer is regarded as one of the top in her genre with hits like "Umbrella," "Don't Stop the Music," "Russian Roulette," "S&M," "We Found Love" and many others. As of November 2011, her 11 number-one singles trail only Madonna and Mariah Carey for the most by females on the Billboard Hot 100 chart history.
As impressive as her musical credentials are, her tattoos are equally as notable. The singer admits to having "14-ish" tattoos which are spread from as high as her ear to as low as her ankle and everywhere in between. Among the notable tattoos include stars running down the back of her neck, the birthdate of her best friend in Roman numerals on her shoulder and an intricate design on her right hand.
Rihanna's tattoos both describe her personality and remind her of what's important in life. One in particular that is personal to the singer is a backward tattoo on her chest that can only be read when viewed from her perspective in a mirror. That phrase, which she states is her motto in life, reminds her that experiences are "never a failure, always a lesson."
Similar to other female celebrities such as actress Angelina Jolie Tats and starlet Megan Fox Inked, Rihanna clearly has been bitten by the tattoo bug. And just as we will await her next music release, we'll also keep an eye out for any new ink on the songstress.
Rihanna's tattoos have a special meaning to her, so now it's time to find out what these tattoos are and the meanings behind them.
Rihanna's Trail of Stars Tattoo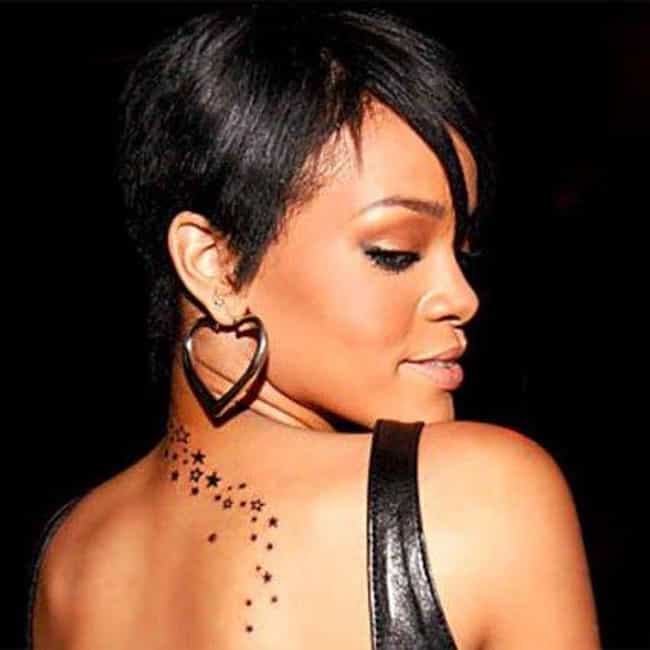 Starting in the center of the back of her neck and draping down and around to her right shoulder is a trail of small stars. This Rihanna tattoo was added in two parts with a second tattoo artist adding more stars to the original work.
Rihanna's Love Tattoo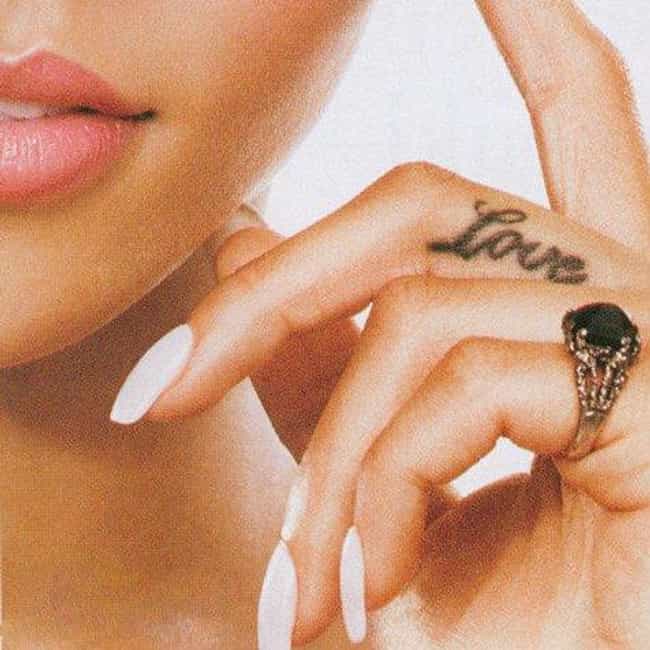 Using script lettering, Rihanna has the word "Love" tattooed on the side of the middle finger on her left hand. This certainly would make for an interesting state of confusion if she decided to flip the bird using this digit.
Rihanna's Shhh… Tattoo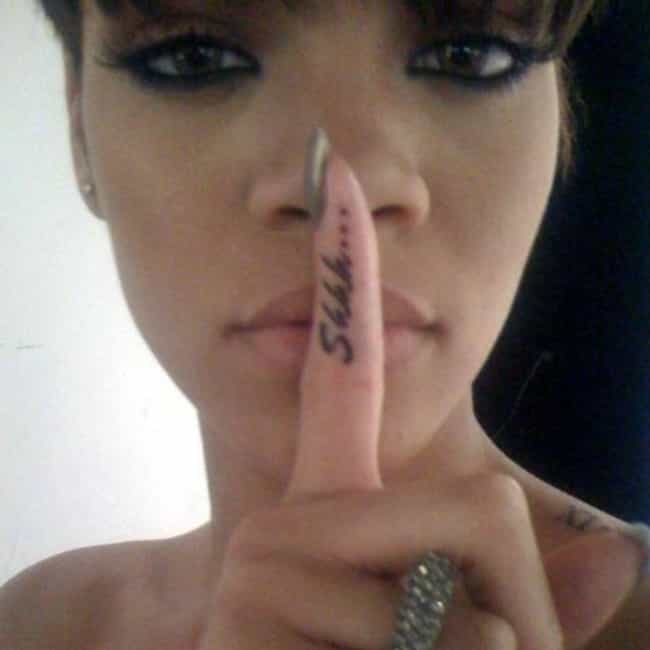 As one of two finger tattoos for Rihanna, the side of her right index finger has "Shhh…" inked. This tattoo, which the singer added in 2008, was later copied by other young ladies such as Lindsay Lohan and Lily Allen.
Rihanna's Music Note Tattoo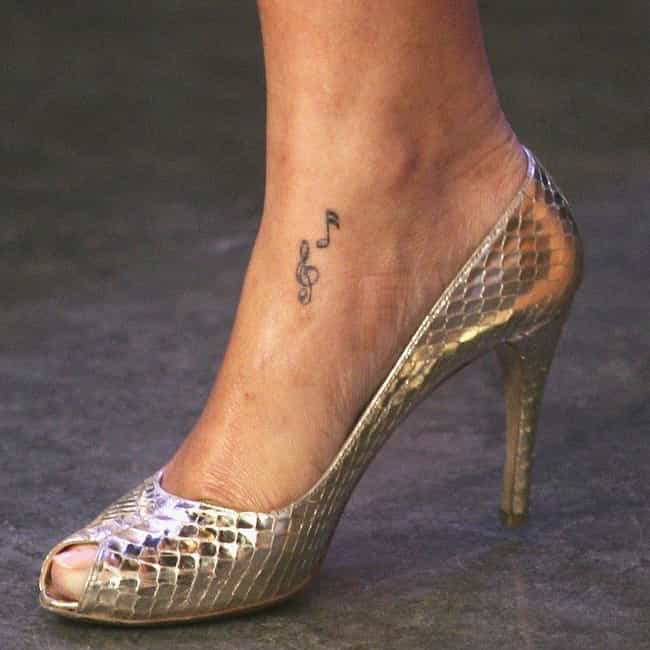 Sitting on the front of her right ankle, Rihanna pays tribute to her love of music with a simple treble clef and music note tattoo. This is believed to be one of her first tattoos as it has been visible since 2006.
Rihanna's Never A Failure Tattoo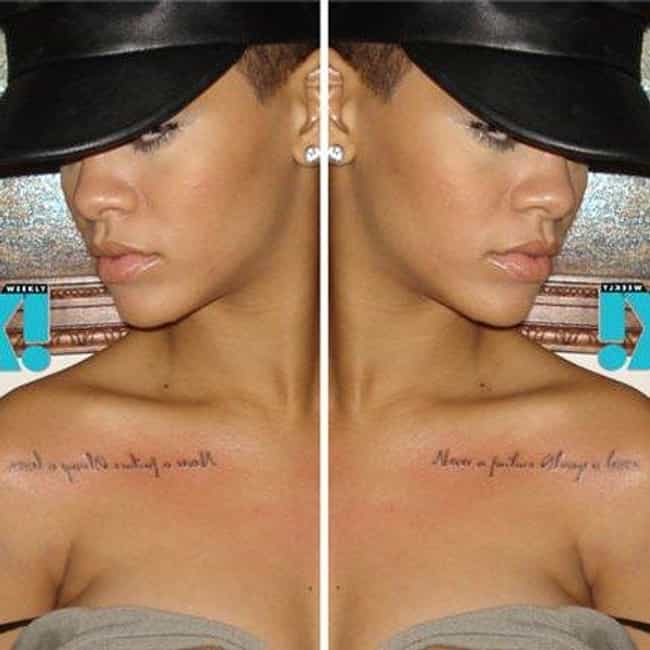 Stating that it's her "motto in life for everything," Rihanna has the quote "never a failure, always a lesson" tattooed across her right chest right between her shoulder blade and her breast. The tattoo is however done in reverse so when she's looking in a mirror the text reads the correct way.
Rihanna's Henna-Style Dragon Claw Tattoo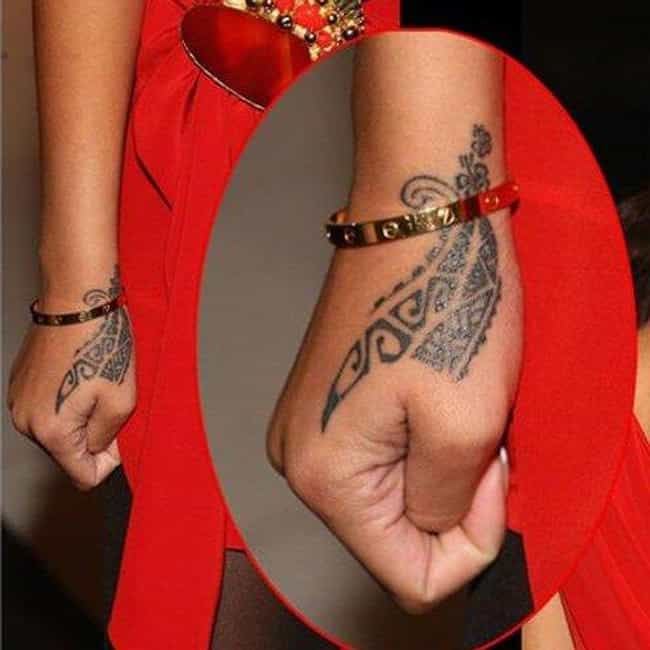 Rihanna got this tribal tattoo in 2008 while she was in tour in New Zealand. Chris Brown, her ex-boyfriend, also has this tattoo on the same hand. Rihanna got this tattoo done in the customary style of the Maori people of New Zealand. By using this technique Rihanna's tattoo appears to be rough and raised instead of smooth. The tattoo stands for strength and love.
Rihanna's XI•IV•LXXXVI Tattoo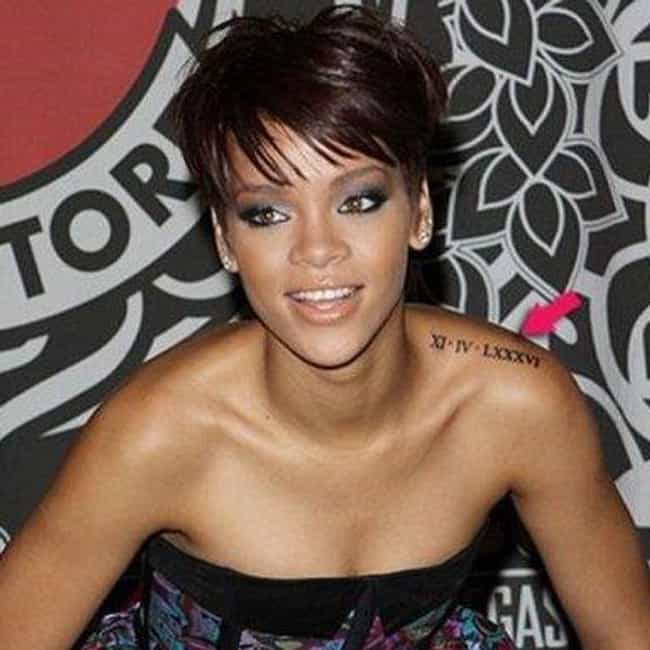 Sitting on her left shoulder, Rihanna has a tattoo of the Roman numerals XI•IV•LXXXVI, which signify 4.11.1986. It's not the date of her birth but rather the birthday of her best friend Melissa Forde, who has a matching tatt of RiRi's birthday.
Rihanna's Pisces Sign Tattoo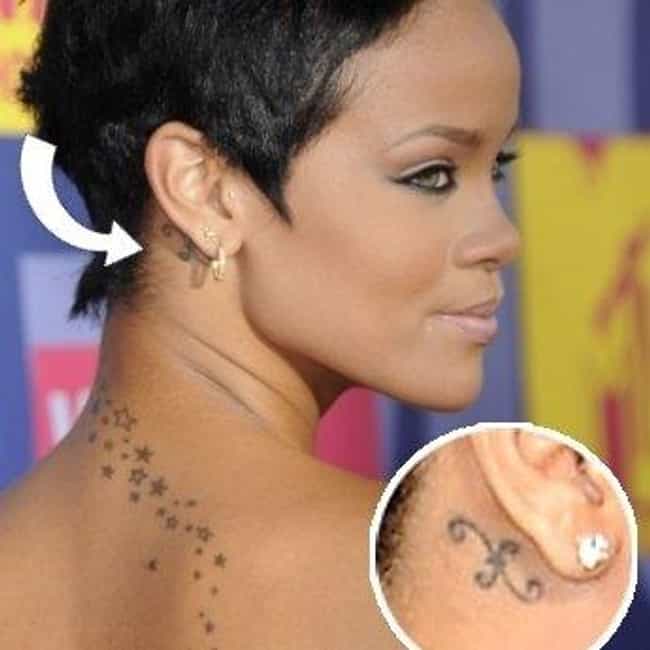 Signifying Rihanna's astrological sign, the pisces symbol sits just behind her right ear. For anyone wondering, the songstress' birthday is February 20, 1988.
Rihanna's Sanskrit Prayer Tattoo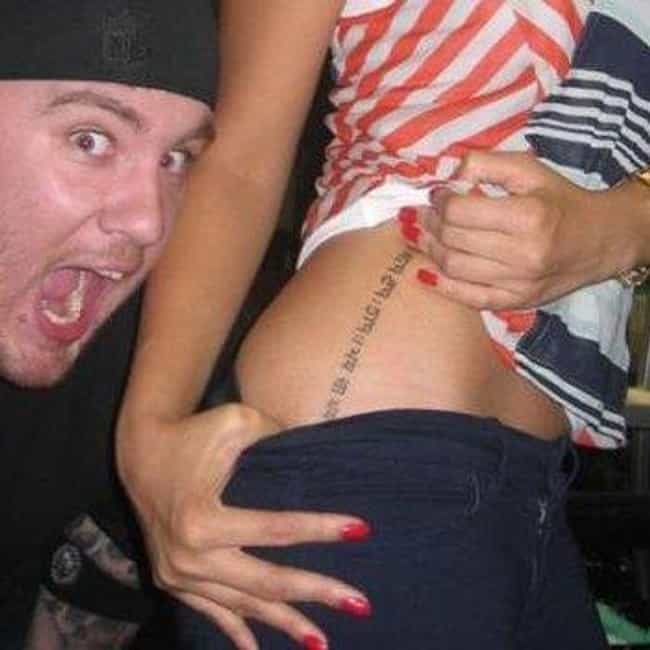 Stretching from just above her waist down her hips towards her butt, Rihanna has a vertical tattoo of a sanskrit prayer along her right side. Taken from Hindu scripture, the tattoo was supposed to translate to something along the lines of forgiveness, honesty, suppression, and control, but because of misspellings it actually translates to "long suffering, truthfulness, self-restraint, inward calm, fear and fearlessness." In addition to this spelling mistake, the beginning portion of the prayer, which reads "pleasure, pain, birth, and death," is missing from her tattoo.
Rihanna's Freedom Is God Tattoo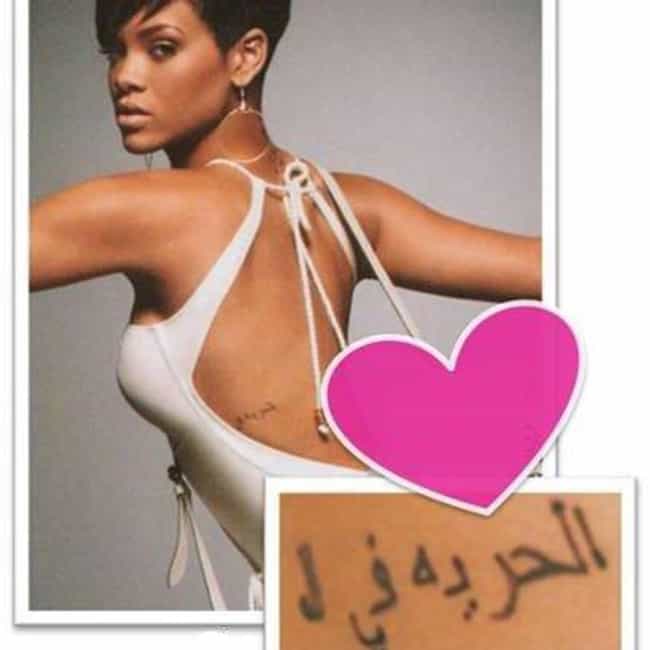 Reading as "Al Hurria fi Al Maseeh" in Arabic, this Rihanna tattoo sits just below her left breast along her ribcage. Translated, the ink means something along the lines of "freedom in God" or "freedom in Christ." For Rihanna, this tattoo represents a sign of change, passion, and strength.
Rihanna's Handgun Tattoo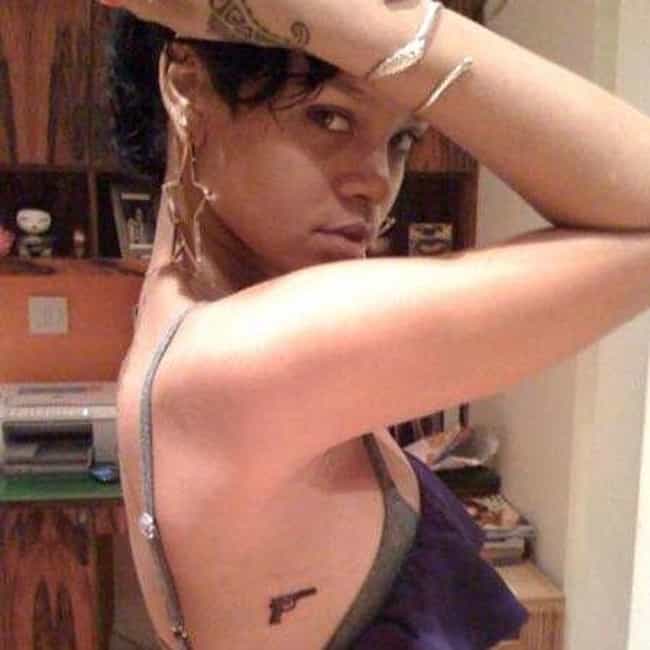 Right under her right arm on her side, Rihanna has a simple image of a blck handgun tattooed level with her chest. Interestingly enough, she added this tattoo around the same time as when she was dealing with a domestic abuse incident with ex-boyfriend Chris Brown.
Rihanna's Rebelle Fleur Tattoo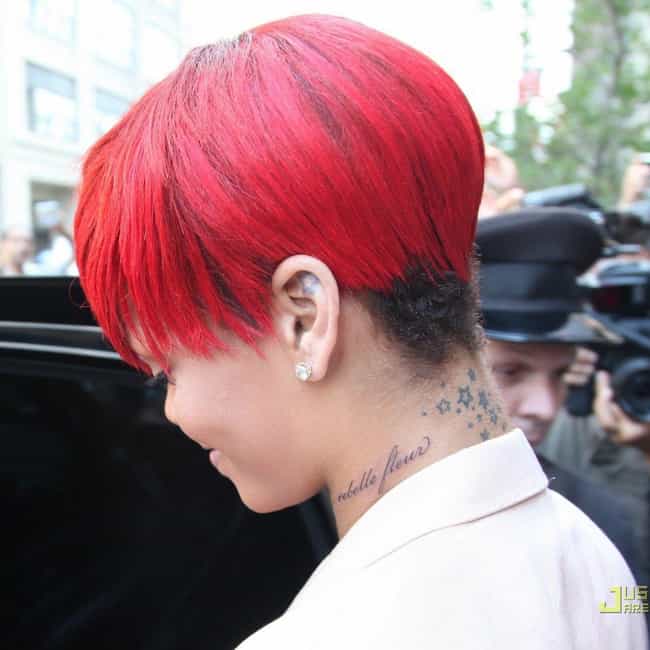 Added at East Side Ink in New York City in August 2010, Rihanna's "Rebelle Fleur" describes the young artist's personality. Once translated from French, the phrase means "rebel flower."
Rihanna's Skull and Crossbones Tattoo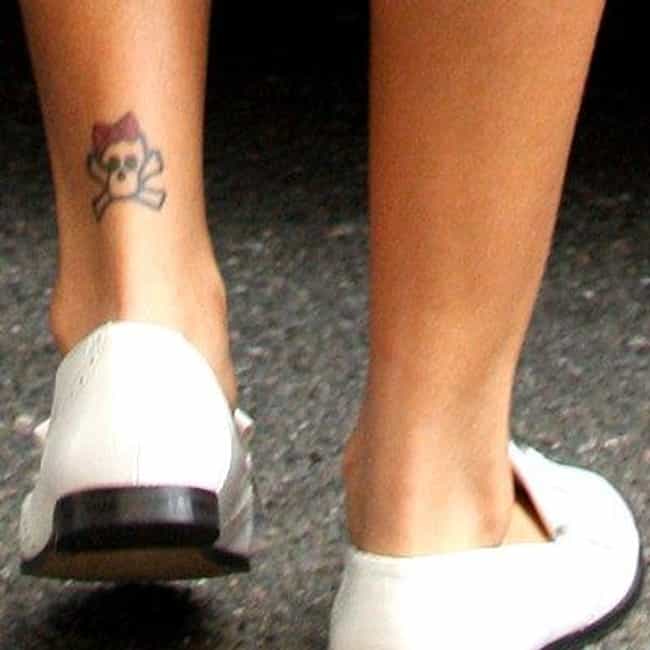 Though definitely a skull and crossbones, this Rihanna tattoo has a touch of femininity which gives it a bit more personality. In addition to the standard skull and crossbones, this tattoo also features a little bow to add a cute and girly look.

INTERESTING FOR YOU