Riverdale
 has become a
TV
 phenomenon, filling a pervasive need for dramatic, high 
school
-centric eye candy. Based on the classic 
Archie
comics
but updated in an darker style more aligned with 
Twin Peaks
 than its illustrated counterpart, the CW series has turned out to be a resounding success for its network.
Everyone's familiar with Archie's iconic red hair, but do you know how the rest of the Riverdale
actors
 originally looked as
comic
book characters? Even the comics themselves have changed and been updated over the years since, after all, they were first published in 1939. But aside from CW making everyone look finer than an average high schooler ever is in
real
life, there are some
interesting
updates to the 
Riverdale
 version of Archie comics, and a few spots of perfect casting.
Check out this list of 
Riverdale
 actors lined up against their comic book characters and see how loyal to aesthetic The CW has been with their hot new series.
Chuck Clayton (Jordan Calloway)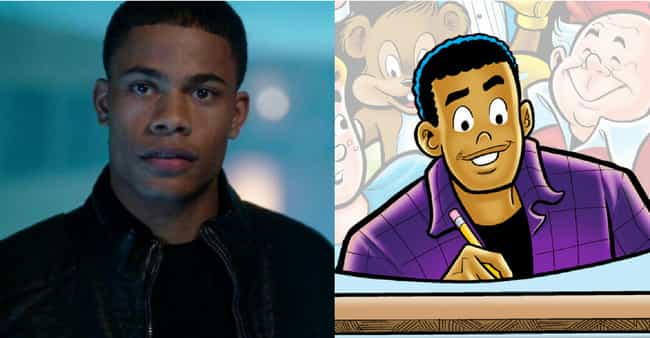 Comics Chuck:
 As square-jawed an athlete as you could find. A good-looking, minor character who fills out the halls of Riverdale High and adds an element of diversity that started trickling into the comics in the 2010s.
TV Chuck
: Perfect casting choice here; that jaw could cut glass. Unfortunately, he turns out to be quite a jerk and womanizer in the TV series.
Mary Andrews (Molly Ringwald)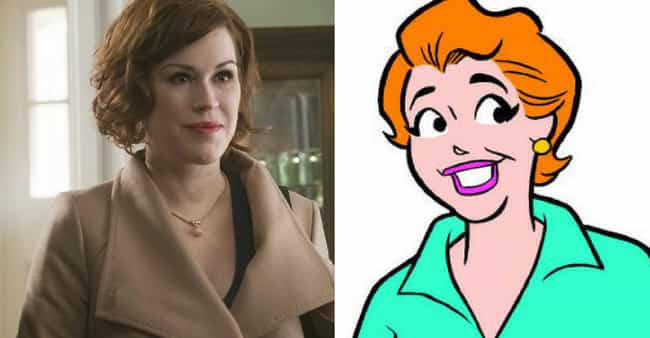 Comics Mary: 
A friendly, curvy mother who takes good care of her husband Fred and her rambunctious son Archie. He gets his red hair from her.
TV Mary:
 The quintessential red-haired '80s icon as Archie's divorced, long-distance is about as perfect a casting choice as you could find, and about as far away a match to the original character, too. In a good way.
Veronica Lodge (Camila Mendes)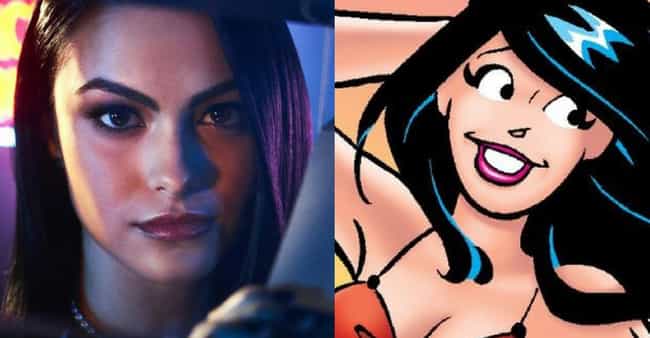 Comics Veronica:
 Dark hair, red lipstick, expensive clothing a few cuts above what the average high schooler is wearing, and her attitude's the sultry, sassy version of Betty's sweet. She has money and knows 
how to
 use it.
TV Veronica:
 As with Betty, the look is spot-on here. The main trio are all great images of their comic counterparts. Veronica in 
Riverdale 
still has money and knows how to use it, but her relationship dynamics with parent figures are different and more complex than in the comics.
Betty Cooper (Lili Reinhart)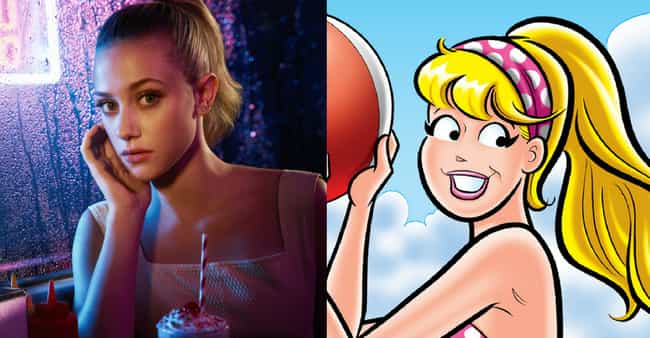 Comics Betty:
 A blonde, pony-tailed girl in chic-but-not-expensive clothes. She's constantly lovesick for Archie, but more often than not playing third wheel to Veronica.
TV Betty:
 A spot-on recreation of her comic counterpart, at least visually. But in 
Riverdale 
she's a much more independent feminist. And, while still best friends with Archie, in the show she dates Jughead. That would NEVER happen in comics-land.
Dilton Doiley (Daniel Yang)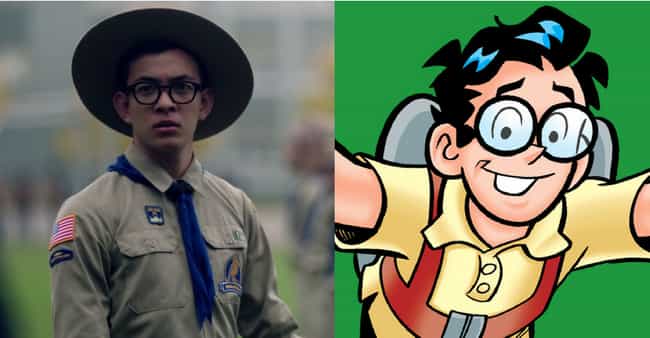 Comics Dilton: 
A goofy, spectacled nerd who loves science.
TV Dilton:
 Pretty much a match, albeit toned down. The glasses and look are close, even if the clothes aren't so goofy. He's a serious scientist, guys. And in keeping with the hot teen aesthetic of the show, he's not that silly-looking either.
Alice Cooper (Madchen Amick)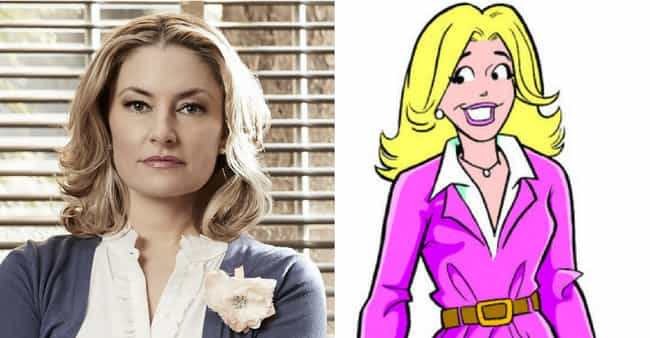 Comics Alice:
 Betty's mom has always been a smiling, supportive blonde with flowing hair and bright clothes.
TV Alice:
 A spot-on choice for casting, and the wardrobe certainly matches. But there's more to Alice than meets the eye, and she gets a darker, controlling makeover in the CW edition, quite a contrast to her always-positive
daughter
.
Cheryl Blossom (Madelaine Petsch)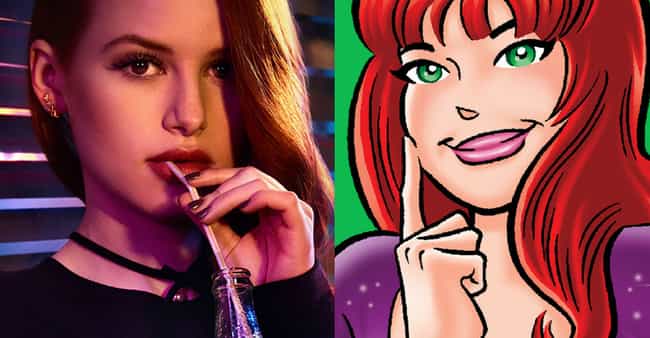 Comics Cheryl:
 An occasional cameo in the Archie comics series, she has bright red hair and piercing eyes, and is a socialite on par with Veronica Lodge. They're all casual friends.
TV Cheryl:
 She starts out the series as a tormented, evil villainous, and it only gets more complex from there. She's a much darker counterpart to her comics original, and her muted red hair and bright red lipstick is a more luxury-gothic interpretation than the bouncy Cheryl you knew previously.
Midge Klump (Emilija Baranac)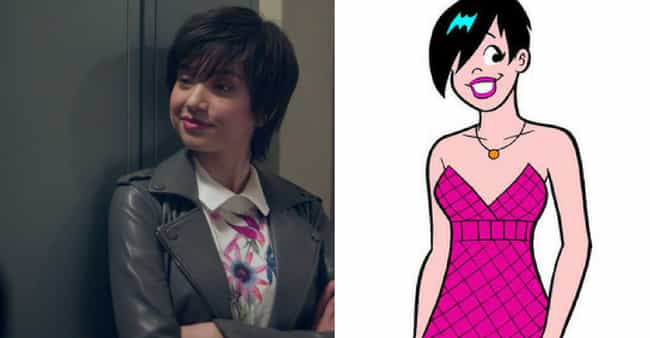 Comics Midge:
 A brightly-clad girl with short, raven hair and a penchant for pink clothes. She dates the school jock, Moose.
TV Midge:
 Introduced in the second season of the show, she looks like she stepped right off the page of the comic itself. And just like in the comics, she's Moose's girlfriend.
Jughead Jones (Cole Sprouse)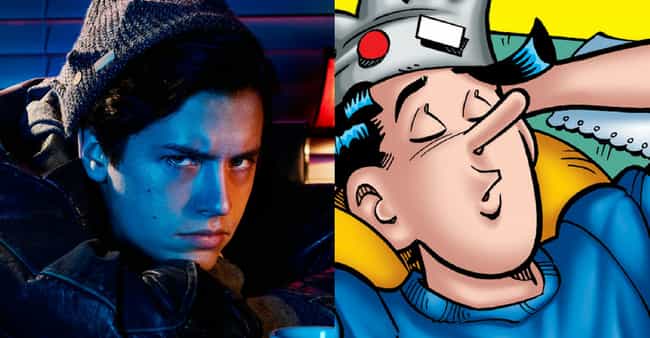 Comic Jughead:
 A dark-haired kid with a silver crown atop his head and a sleepy look in his eye. He's probably good-hearted, but you don't always get a good read on that from the comics: he mostly serves as a comic prop to eat tons of food, sleep, and serve as an aid to Archie when his best friend needs it.
TV Jughead:
 An angsty look with a little grey beanie serving as the crown of comics lore, well serving the modern, edgy realism of the show. He's now less into gluttony than he is into late nights drinking bottomless coffee at Pop Tate's Chocolate Shoppe, working on his 
investigative journalism
.
Archie Andrews (KJ Apa)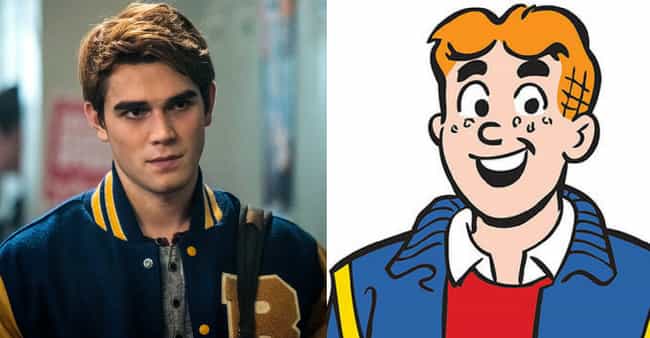 Comics Archie: 
A fresh-faced redhead with his blue letterman's jacket and a shabby car that always seems to fall apart when he's got a hot date. He spends most of his time chasing Veronica, but usually settles for hanging out with Betty if Veronica's playing hard to get.
TV Archie: 
Wipe away the freckles, tone down the goofy grin, mute the style color choices, and give him some abs. Archie in 
Riverdale
 has a similar aesthetic to his comic original, appropriated slightly and buffed out enormously to fit the show's edgier style.
Kevin Keller (Casey Cott)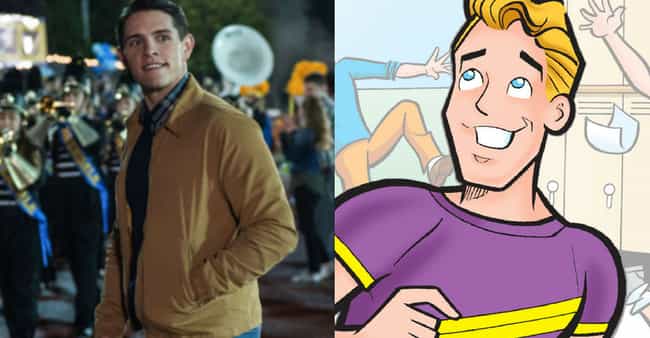 Comics Kevin:
 A 2010s addition to the original 
Archie
 comics, Kevin Keller was the first openly gay character at Riverdale High. Blonde, bright eyed, and smiling, he's a clean-cut guy who looks no different than his straight classmates.
TV Kevin: 
Kevin on The CW is aesthetically pretty close to the comic version. Even their mouths look the same! The similarity extends even down the storyline where Veronica may be interested in
dating
him for a hot second…until she quickly realizes he's not interested in women.
Toni Topaz (Vanessa Morgan)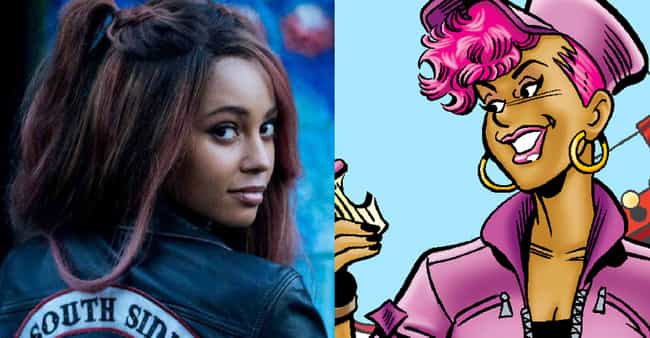 Comics Toni:
 In the original comics, this alt-punk had bright pink hair, a matching jacket, and a lot of (background) attitude.
TV Toni:
 The hair color is more subtle and the jacket is black leather: a gritty reinterpretation of her formerly over-the-top look, and well suited to the "school on the other side of the tracks" where Jughead transfers. Also, 
this Toni is bisexual
.
Moose Mason (Cody Kearsley)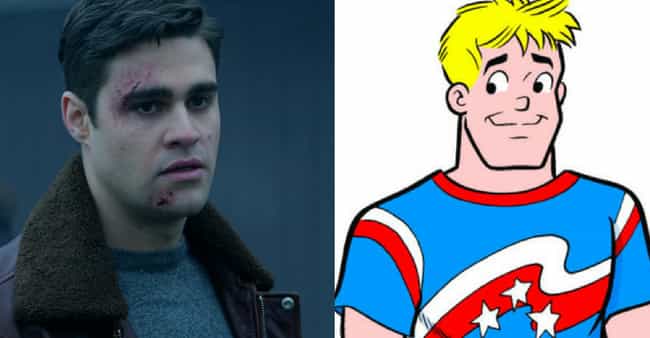 Comics Moose: 
A blond, broad shouldered jock with good intentions and mighty brawn but very few brains.
TV Moose:
 In 
Riverdale, 
Moose leaves the tropey trademark "D-uh," behind, but he's still not the brightest crayon in the box.
Josie McCoy (Ashleigh Murray)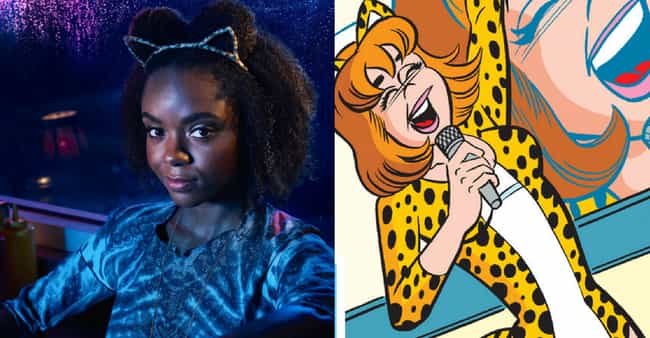 Comics Josie: 
In the original comics, Josie was a white, redhaired frontwoman of the band Josie and the Pussycats. She wore signature cheetah-print
cat
ears and appeared from time to time performing with Archie's rag-tag band, 
The Archies
.
TV Josie:
 The cat ears stayed, but most everything else was changed, and most for the better. Josie for The CW is a much more complex character and brings a layer of depth and diversity to the 
Riverdale
saga.
Ethel Muggs (Shannon Purser)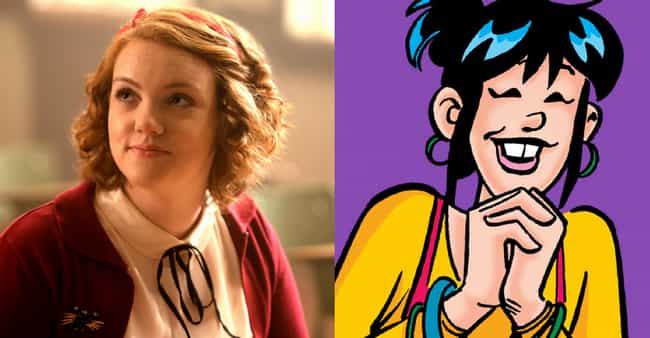 Comics Ethel:
 A dark-haired, gangly and goofy girl with buck teeth who was always chasing after Jughead.
TV Ethel
: She's definitely still not as hip as the Riverdale High kids: she's curvier, dressed more modestly, and is shy and a bit socially awkward. But no buck teeth or boy-chasing in sight.
INTERESTING FOR YOU