Just as there is a list of the worst parents of 2017, there is also a list of the worst teenagers of 2017. Usually, juvenile courts adjudicate crimes committed by children or teens, taking into account the idea of helping teens understand the gravity of their crimes, while at the same time delivering a punishment that will not cripple the offender for the rest of his or her life. However, there are times when a crime is so savage that regardless of the age of the delinquent, no juvenile court punishment will suffice. In these rare and violent cases, teens are tried as adults. The awful teenagers who commit such dark crimes are the deeply depraved and psychotic. 
Being a teen is difficult. Between all of the hormones, conflicting emotions, peer pressure, and parental expectations, it's no wonder that teenagers need to let off a bit of steam from time to time. However, there is a difference between a little havoc and committing heinous criminal acts. These out-of-control teenagers push the limits of violence and depravity. Check out news about the worst teens of 2017 below, and be warned: their true tales are shockingly gruesome.  
Teen In India Kidnaps, Kills, And Cannibalizes A Child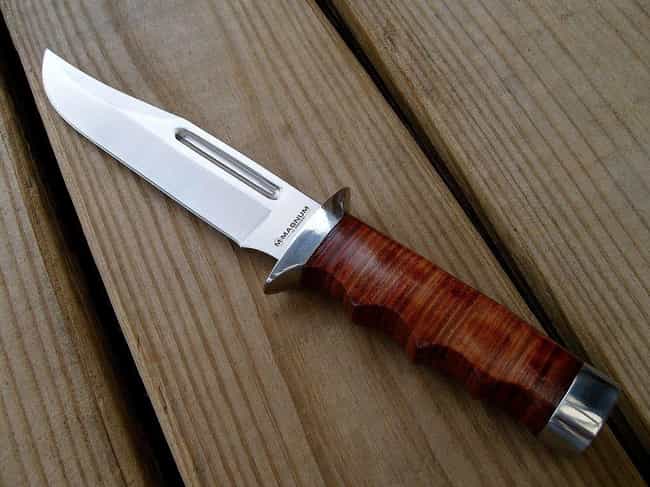 In January of 2017, police in Punjab, a state of India, found the severely mutilated body of nine-year-old Deepu Kumar. Kumar's headless body had been dumped in a vacant lot, in several pieces. His 16-year-old unnamed neighbor was arrested after
video
from CCTV footage in the area showed the young boy and the teen together on the street. He confessed to 
cannibalizing Kumar's thigh
, drinking his blood, and violently ripping Kumar's heart out.
The teen had taken Kumar's heart and placed it on the property of his secondary school, a school he hated, in the hopes that it would lead to bad publicity for the institution. After the murder, the teen came home, cooked dinner, and behaved normally. During his confession, the teen also admitted that he had a craving for human flesh, including his own appendages, and would often eat raw meat. Police recovered the heart from the school and took the teen for psychological testing.
Schizophrenic Teen Killed A Seven-Year-Old Girl, Thinking The Child May Be A Robot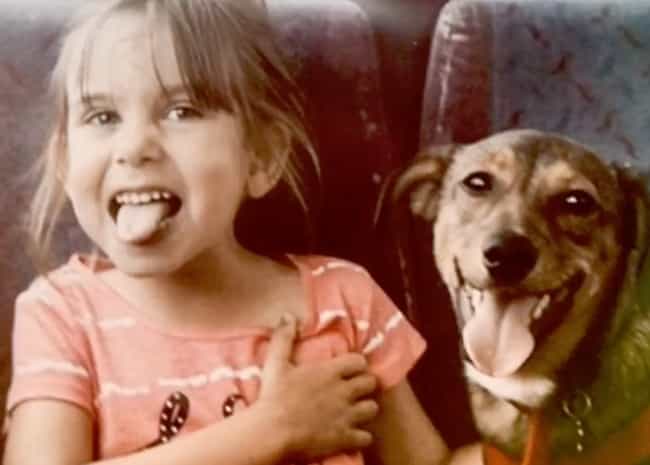 An unnamed 16-year-old girl from York, England, took the life of Katie Rough, a seven-year-old child, in January 2017. Rough was playing near her home after school when she was abducted by the teen and taken to a nearby field. The teen strangled Rough and 
slashed her neck and chest
.
The teen allegedly suffered from a host of mental disorders, including a schizo-personality disorder, a
history
of depression, and delusional beliefs. These delusions caused her to believe that Rough wasn't a real girl and that she was actually a robot. When her room was searched, the police found notebooks and comics of "
a violent nature
," a small book of death-related drawings, and a stuffed animal that had been viciously attacked. The teen later pled guilty to manslaughter by diminished capacity.
Two Teens Allegedly Scalded, Raped, And Sodomized A Woman In Front Of Her Young Son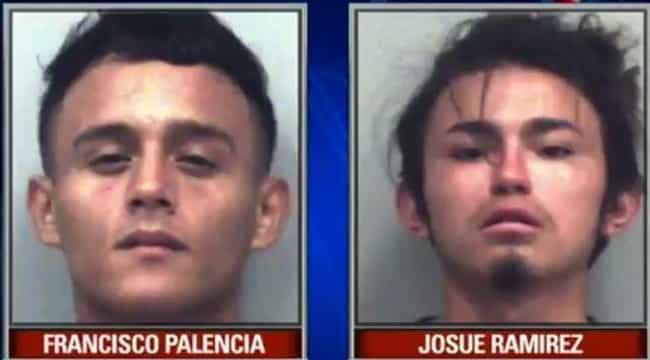 In the early morning hours of May 12, 2017, 17-year-old Francisco Palencia and 19-year-old Josue Ramirez entered the apartment of a 23-year-old mother through an unlocked sliding glass door. The teens waited, 
dressed in ski masks and dark clothing
, until the victim arrived home from work with her two young sons. Palencia and Ramirez proceeded to 
brutally attack her
 with stun guns, scald her with boiling water, rape, and sodomize her while her older toddler son watched. They stole the victim's jewelry, her German shepherd puppy,  and ID.
A third teen, a 15-year-old unnamed female, was also arrested. She was the driver for the men. All three are charged with home invasion, rape, aggravated sodomy, kidnapping, aggravated battery, and cruelty to children. Both men are held without bond, and the status of the female driver is unknown due to her name being undisclosed.
Teen Stabbed And Raped His Own Grandmother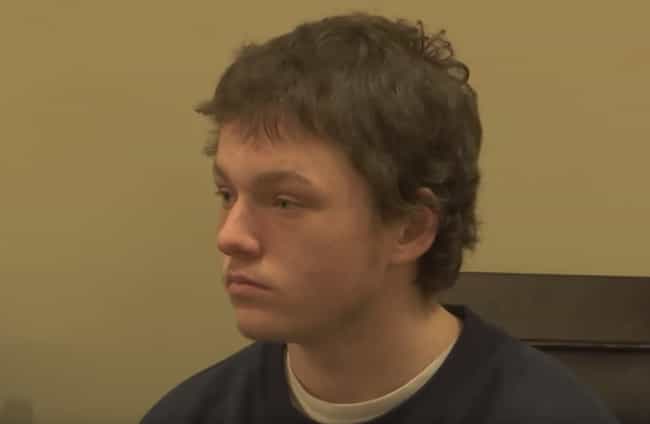 While the rest of the world was celebrating
New Year
's Eve, Alek Nicholas Wright, an 18-year-old from Klamath Falls, Oregon, was busy raping and murdering his 74-year-old grandmother, Judith Anne Rose. Police responded to a 911 call of a stabbing at Rose's residence. Her body was found with 
multiple knife wounds to the throat and neck
, along with evidence that she had been sexually assaulted by her grandson. Wright entered a plea of "no contest" and received a life sentence without the possibility of parole for 30 years.
Teen Allegedly Killed His Mother With A Hammer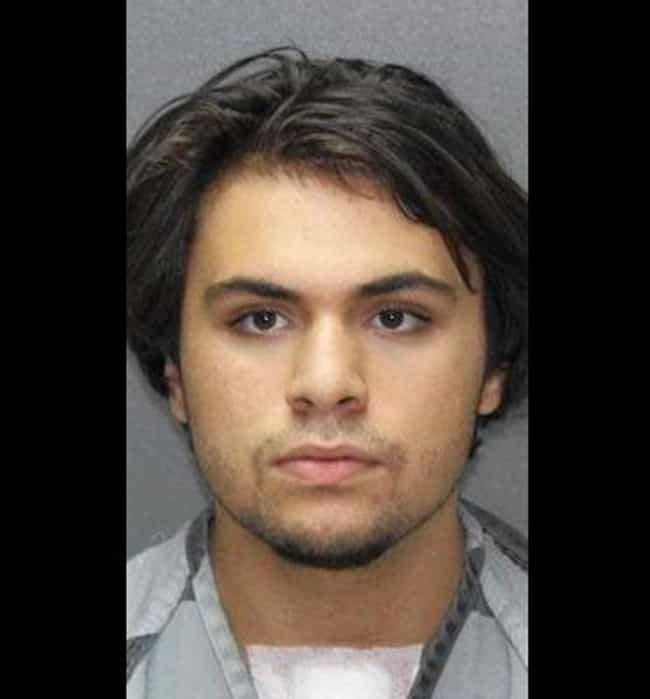 Andrew Zaragoza, a bright 16-year-old, had a tough upbringing. He lived in a home that police knew well as a source of criminal activity and domestic disturbance. He was 
mentally, physically, and emotionally abused
, and his father and uncle died from drug-related activity in 2016.
On July 20, 2017, Zaragoza alleged that his mother and primary abuser, Donna Zaragoza, had struck him. In response, he beat her to death with a hammer, then 
stabbed her
 in the neck and chest. He took pictures of her dead body and texted it to one of his friends, then tried to take his own life by drinking bleach. First responders arrived and talked him out of it, having him quietly arrested. As of September 2017, Zaragoza is being held 
without bond
.
Young Girl Purported To Have Stabbed An Uber Driver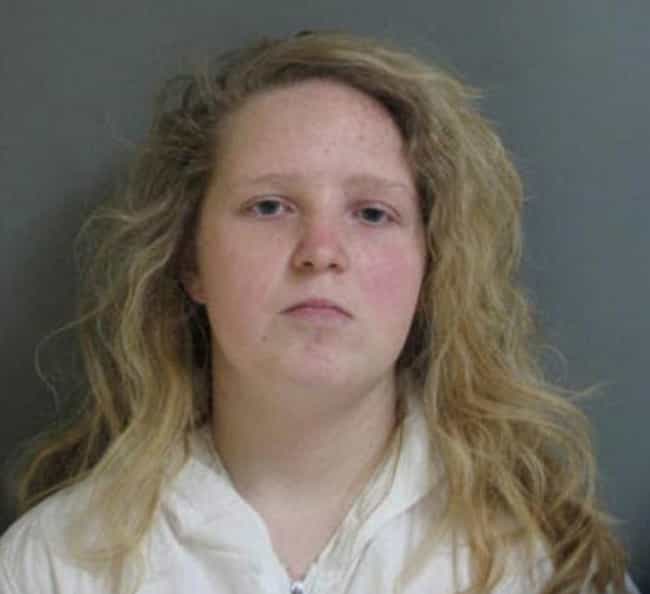 Eliza Wasni, a 16-year-old high school student from Chicago, entered a Walmart in Skokie, Illinois, around 2am on May 30, 2017. She allegedly walked to the sporting goods section and took a hunting 
knife and machete
, unwrapped both, and walked out the door without paying.
Grant Nelson, 34, an unsuspecting Uber driver, picked her up outside of the Walmart and began driving. Without warning, Wasni began to wildly stab Nelson from the back seat with both weapons. Nelson fled his car, seeking help from the residents of nearby homes. However, his wounds were too severe and he died the next morning. He was able to provide police with an account of what happened and Wasni's description.
Wasni stole Nelson's vehicle, crashing it moments later. Officers found Wasni behind a nearby building, holding two bloody blades and wearing only leggings and a bra. She refused to lower the weapons, forcing police to Tase her. As with all first degree murder cases, she has been charged as an adult.
Teen Couple Allegedly Killed Grandparents, Hosts A Party With Dead Bodies In Home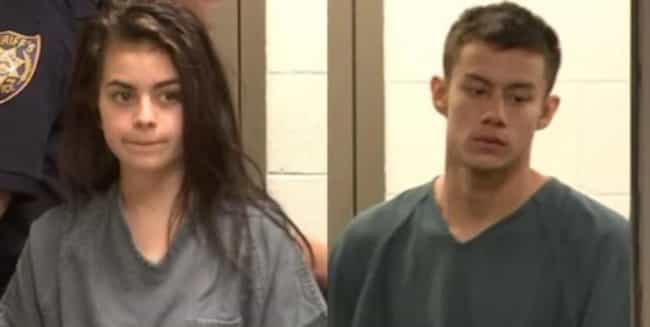 In early April of 2017, Cassandra Bjorge (19) and her boyfriend, Johnny Rider (18), beat Bjorge's grandparents with a 
hammer and tire iron
, sliced their throats, and 
left them for dead
. The couple allegedly caulked the doors to the room with the bodies to contain the overpowering smell of death. Then, the teens proceeded to invite innocent friends to the house to have a party.
This was only the beginning of their premeditated reign of terror. The teens had planned a series of attacks, with Bjorge's grandparents first on the list. Next was supposed to be Rider's
parents
, his sister, and Bjorge's mother. On April 8, Bjorge and Rider attacked his sister and left the dead grandparents's car at the scene. The police conducted a welfare check at the elderly couple's home, finding their grisly remains.
Both Cassandra Bjorge and Johnny Rider were located the next day. With the terrifying reality of arrest before them, both attempted suicide by slitting their wrists before being taken into custody by the Gwinnett County SWAT team.
Boy Stabbed Both Parents And Committed Suicide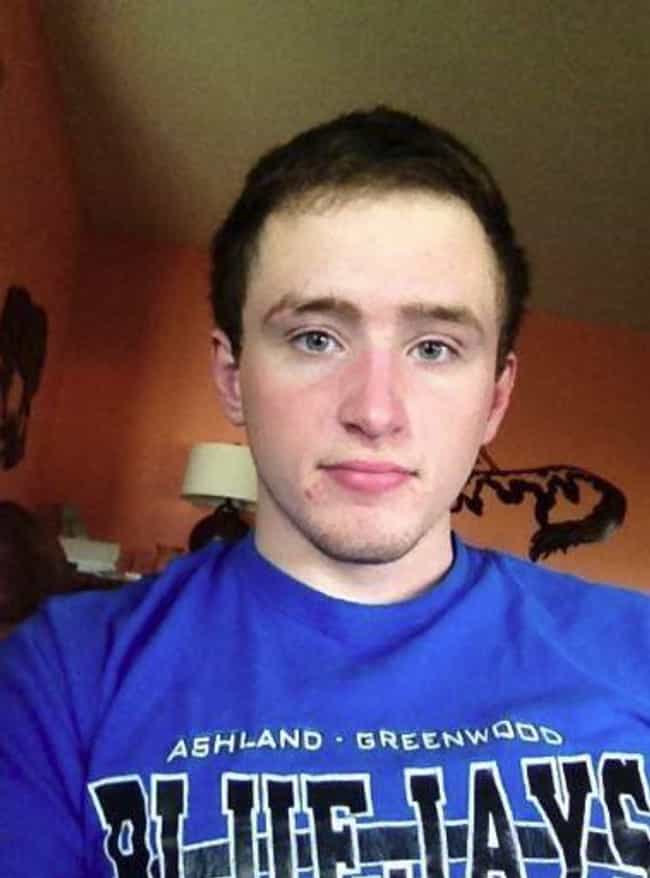 Gavin Glasz, an 18-year-old from Iowa, savagely murdered both of his parents, Brian and Michelle Glasz, in June 2017. Much of the home was covered in blood, from bloody footprints to blood-stained clothing. The 
father died
 of "multiple sharp force injuries, strangulation, and blunt force trauma to the head," while the mother was strangled and stabbed several times.
Prior to the murders, Gavin Glasz allegedly 
told a friend
, "My mom and dad need to be with my grandpa… Off this earth." The police arrived at the home to conduct a welfare check after Brian Glasz's employer reported that he had failed to show up for work. They eventually discovered the mutilated bodies of Brian and Michelle Glasz, 
wrapped in blankets
. Gavin Glasz was arrested at the scene of the crime.
Two months later, Glasz took his own life. He was found 
hanging by a bed sheet
 tied to the cell bars in the Clinton County Jail.
Teen Allegedly Killed His Own Baby Daughter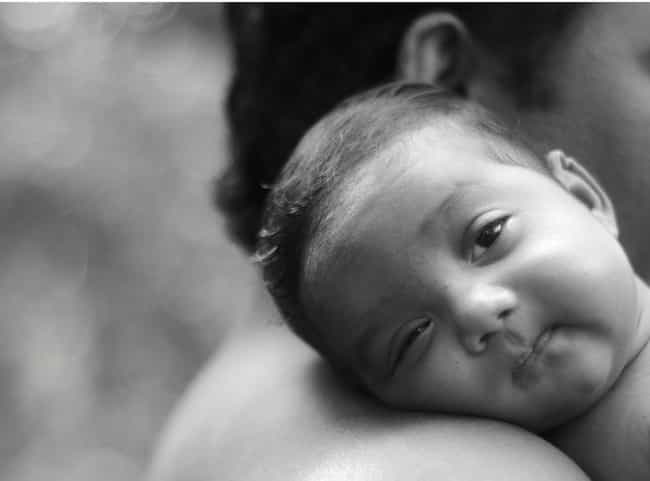 In August 2017, Cedric Deshawn Martin, a 17-year-old from Moultrie, Georgia, was arrested and charged with the murder of his two-month-old daughter, Zoee Martin. Baby Zoee was admitted to the Colquitt Regional Medical Center, but was quickly taken to Navicent Medical Center in Macon Georgia, where she ultimately perished. The autopsy showed "
head and body trauma
" as the cause of death.
This was not Martin's first brush with the law. In the past, he had been charged for 
trying to lure
 a 13-year-old girl into an abandoned building for
sex
.
Teen Stripped, Kicked, And Stomped A Man To Death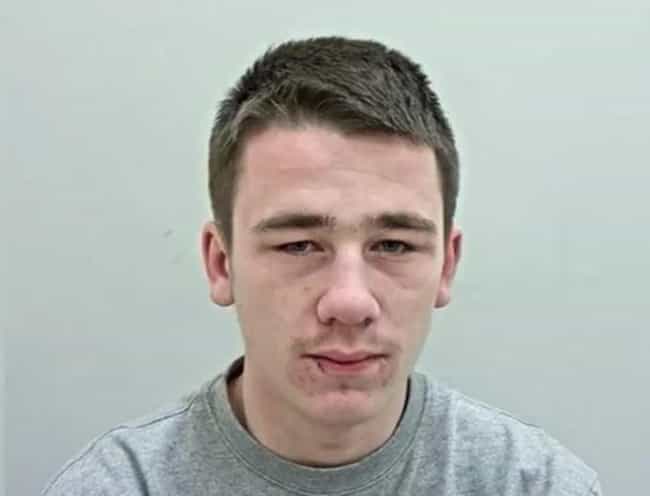 19-year-old Nathan Richardson of the UK brutally stripped, kicked, and stomped a jogger, Wen Qing Xu, in a 
chance encounter
 on a London street after consuming a cocktail of drugs and alcohol.  Richardson left the scene, later texting a friend that he "
f-cked sum chink up
." He also admitted to pulling down Xu's pants and grabbing his genitals.
Initially, passersby incorrectly assumed that Richardson was pulling a rolled carpet toward the gutter, not realizing that it was Xu's half-clad body. When it finally dawned on people that the "carpet" was a person, Xu was quickly transported to the hospital. However, his injuries were too severe and he died a few hours later. Richardson has since been sentenced to 19 years in jail.
This Teen Can't Stop, Won't Stop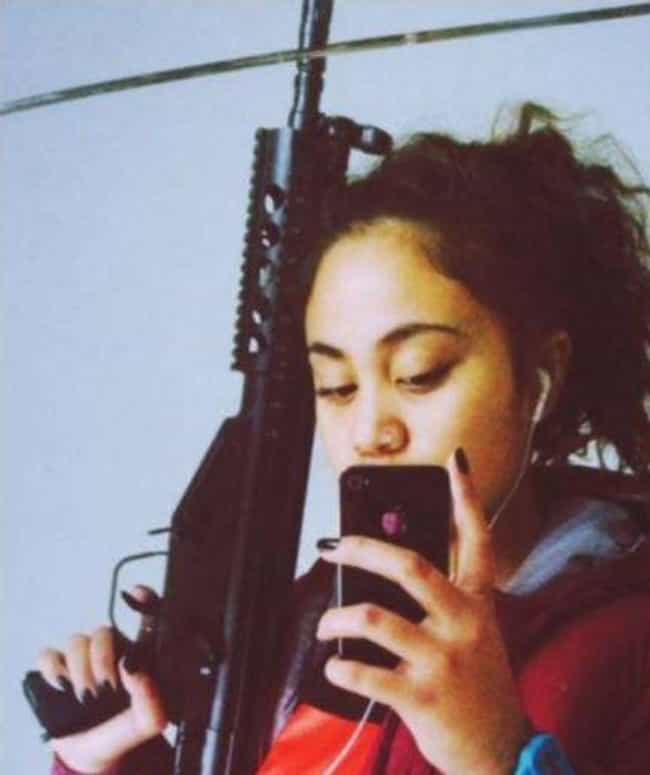 Lily Pritchard-Davis, an 18-year-old New Zealander who dropped out of school to lead a life of crime and drugs, faced 
28 separate charges
 in a seven-month crime spree. Her crimes included aggravated robbery and 
14 burglaries
.
In one instance, Pritchard-Davis and two accomplices savagely attacked a 60-year-old woman, pulling her from her car in a parking lot. They kicked the victim in the head, who ultimately escaped with a broken nose, broken teeth, and a concussion. Pritchard-Davis seemed unmoved during her court appearance, pleading not guilty and smirking. She even waved to her family before being sentenced to four years in prison. A later interview revealed that she wasn't afraid of going to prison and that it would give her "notoriety."
Violent Teen Gang Went On A Crime Spree In Milan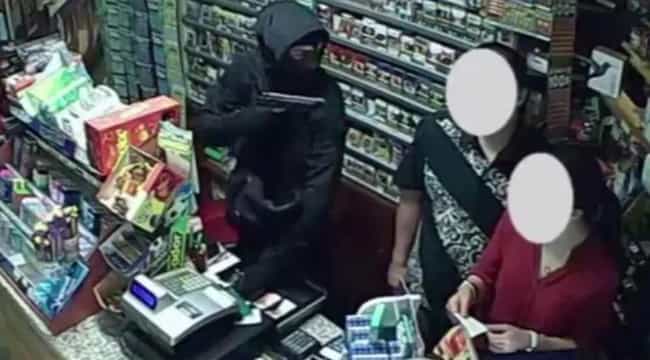 A gang of four teenagers from Italy, ages 14 to 17, used the movie 
A Clockwork Orange
 as inspiration to commit a crime spree across Milan. The "baby gang" known as the "
Via Creta gang
" stands accused of raiding hotels, small shops, and amusement arcades. They attacked people whom they believed were homosexual, of a different religion, or were foreigners.
The teens have brutally beaten their victims and have stolen 
cash, smartphones, and tablets
. One of their victims, a 50-year-old disabled 
gay
man, was so traumatized that he refuses to leave his home since the attack. They also assaulted a group of Eritrean musicians so badly they were hospitalized for 30 days. The teens regularly posted
videos
of their crimes on Facebook and YouTube.
INTERESTING FOR YOU