Our pets bring us joy and happiness every single day. They help us get through the bad days, and are happy to be there for the good. At the same time, many fantastic and kind humans have rescued dogs and changed their lives. Animal shelters and rescue centers around the world put countless volunteer hours into helping abused and homeless animals and rescues find loving homes with people who will be their best friend and guardian for the rest of their lives. These rescued dogs before and after will melt your heart and show you the power a loving human can have on a sweet pup.
There is nothing as sad as a dog that wants and needs its forever family. Shelters are not happy places for dogs and puppies waiting to be adopted. They are noisy, confusing and scary to a displaced or surrendered dog. Once these animals get out of that uncomfortable living situation, though, the happiness can shine through. What a difference a home makes. If you're looking for your next best friend and beloved family member, these before and after pictures of rescue dogs show that these animals don't take the term "rescue" lightly. Your choice to save a rescue dog will be rewarded a thousand times over. Just like people, every dog has it's own story, and it shouldn't have to end in a shelter or on the streets. No one will be able to doubt the power of a forever home after looking at these pets' smiling faces!

The most inspiring quality these photos capture is the complete shift in the demeanor of the rescued dogs before and after. The transformations that these pets experienced after they were saved show how adoption can completely change a dog's life. If you were looking for a pick-me-up, search no further: these before and after pics of rescued dogs will make your heart melt and your soul soar!
Upvote the cutest rescues and adopted dogs with the most inspirational stories below and be sure to give your furry friends some love!
Rilind… Reborn!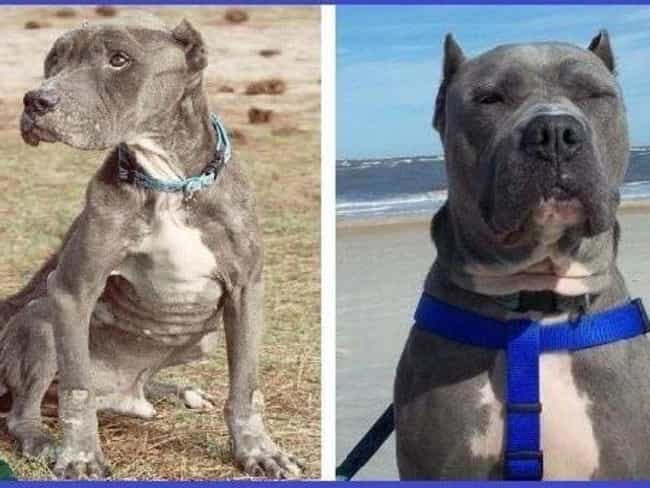 Rilind came to the nation's attention when he was dumped over the fence at a city shelter in Jacksonville, FL. He weighed only 37 pounds, was infested with fleas, and had a near deadly case of heartworm. Still, he was loving, kind, gentle… and determined to live.
Rilind was saved by an organization called Pit Sisters, and taken into foster care, where they discovered he had a condition called EPI (exocrine pancreatic insufficiency) which prevented him from retaining nutrients from his food. Thankfully, this condition can be treated by simply adding an enzyme to an animal's daily food, and Rilind thrived.
He was adopted into his forever home and lives in Florida, boasting a large following on his Facebook page,Rilind Reborn. Rilind was named Pit Bull of the year in 2012.
Now This Is a REAL Joyride!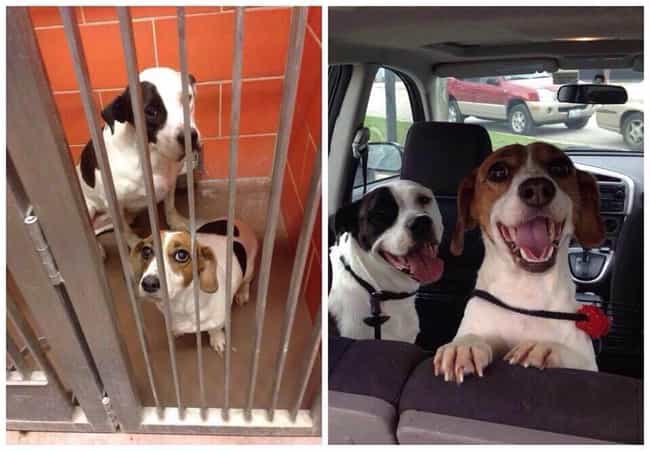 Why adopt? Because 3.9 million homeless dogs enter shelters every year, and 1.2 million of them are euthanized. Adopting a dog is saving a life, without question. Just look at these happy faces – they know it, too!
Source: ASPCA
Miller the Doberman Goes from Police Station to Shelter to Home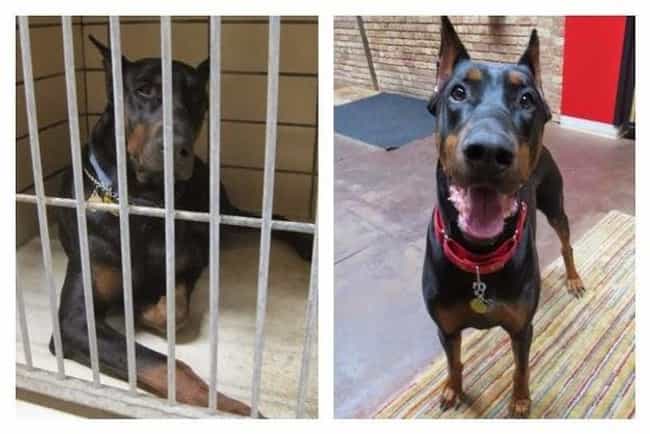 Miller was picked up by the cops wandering a neighborhood, obviously abandoned. Suddenly, Miller found himself stuck in the local kill shelter. Thankfully, he was pulled out of there by a rescue group, Trio Animal Foundation, and later adopted.
Spokey Gets a Second Chance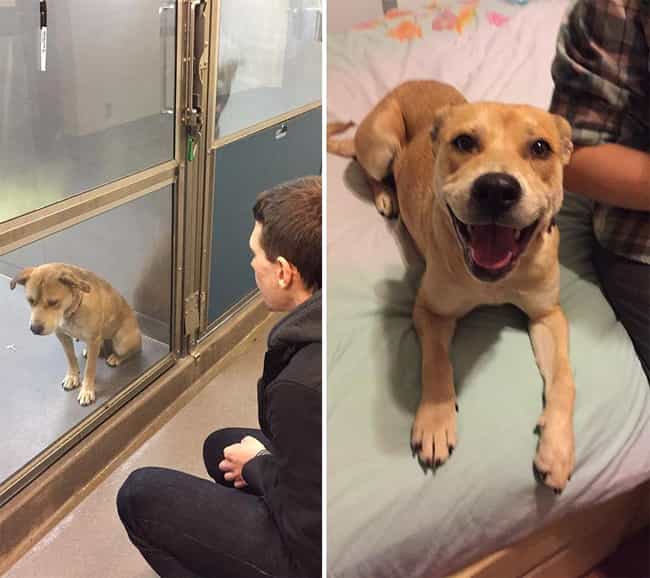 Spokey was found in rural West Virginia and ended up at the local SPCA. Like so many dogs that end up in shelters, most of her life story is unknown. Good thing that she found a happy new home! Now she can start a new chapter.
Source: Reddit
Dozer Makes His Vet Fall in Love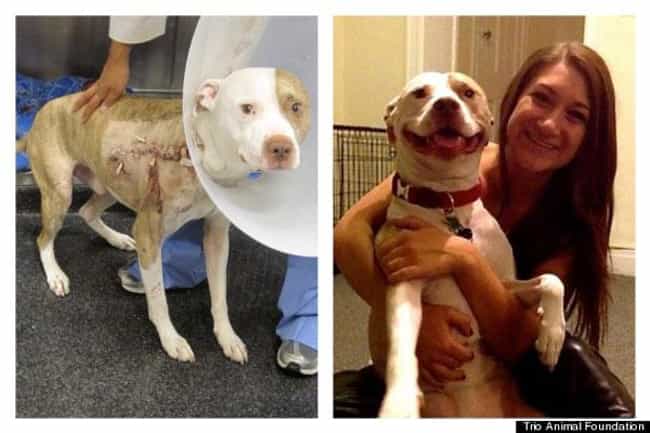 Dozer was badly burned in a case of cruelty. He had to be hospitalized for two months and endure several surgeries. However, fate was on his side when one of his treating veterinarians decided she couldn't live without him. Looks like the feeling is mutual!
Source: Trio Animal Foundation
Starved for Affection
Alex was starving, wandering the streets of New Orleans. When he was rescued, X-rays of his stomach showed that he had been eating sticks and rocks to try to stave off hunger. He gained 10 pounds in 10 days in his foster home.
Source: Life with Dogs
BFFs Are More Fun Than Shelter Cages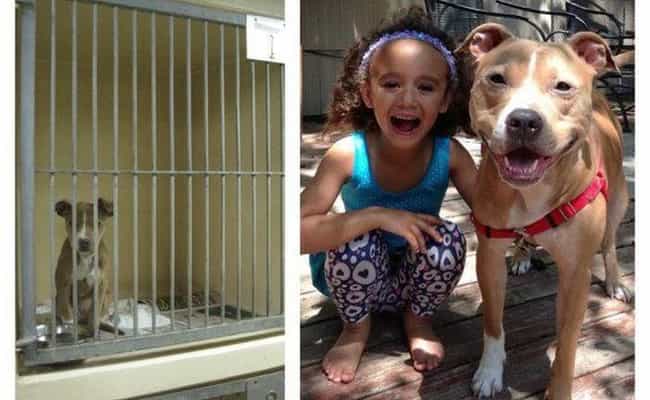 You can tell that bully breed Hazel is totally stoked to have scored the ultimate home, with the ultimate best friend!
Pillow Flips to the Cool Side with a Forever Home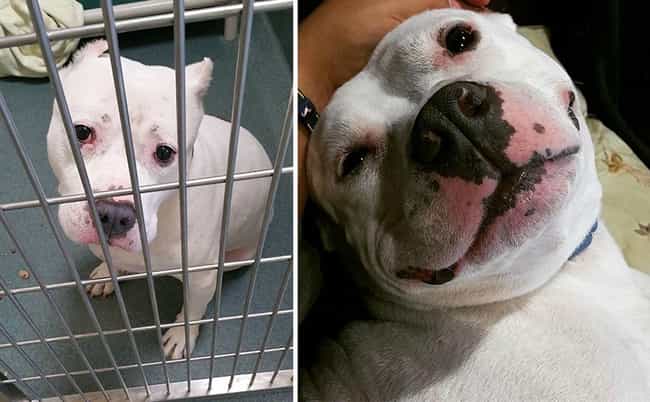 How can one not fall in love with a pup named Pillow? Her smiley, squishy face radiates happiness now that she is out of the shelter and in a nice warm bed in her forever home.
You're Only as Old as You Feel…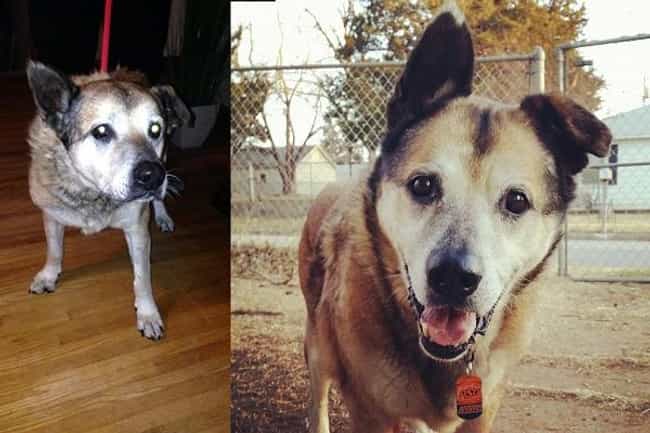 You can tell this old boy feels like a spry pup again, having found his forever home! Adopting an animal and giving a little love from your heart is a second chance at life.
Annabelle Finds New Hope as a Therapy Dog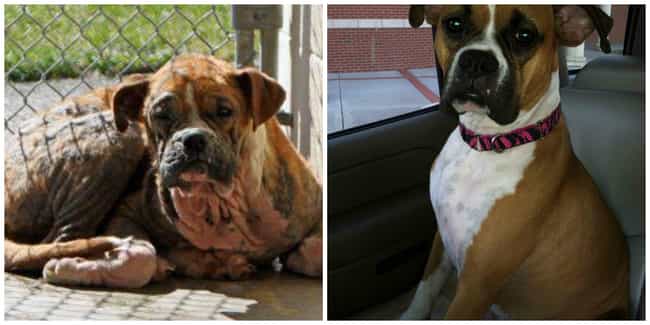 Annabelle was a stray from the streets of Sterling, KY that was captured by animal control and destined for euthanasia, had Bluegrass Boxer Rescue not stepped in to save her life. Annabelle is now lookin' good and taking her job as a therapy dog very seriously.
Source: Reddit
Livin' the Pug Life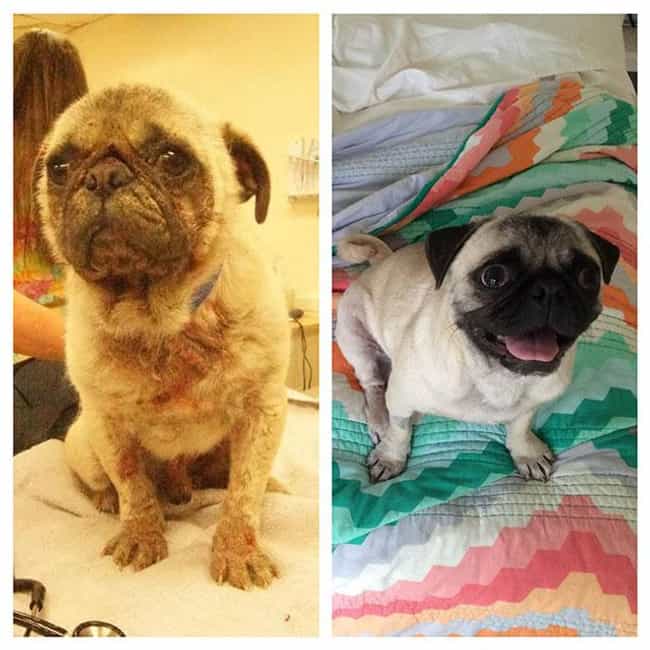 Bento the pug was picked up by animal control, wandering the streets with a bad case of demodedectic mange, lesions, and sores. He was also severely underweight, which is very un-pug-like. Bento was terrified of every single thing in his new home for about three days, before deciding that he really, really liked it there, as evidenced in this heartwarming "after" pic.
Source: Reddit
Nico Swanngarris: Celebrity Rescue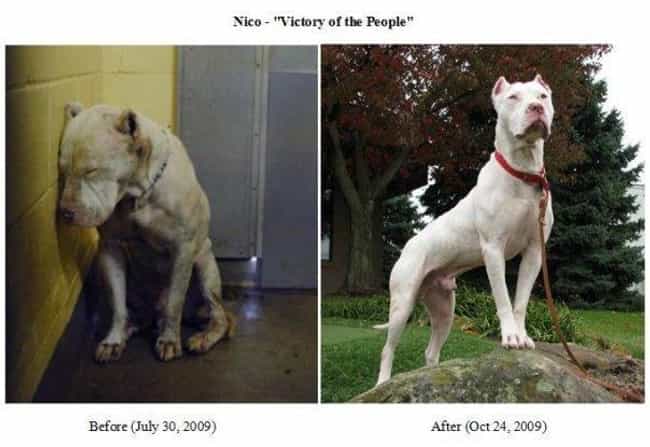 The incredibly sad photo on the left is Nico, a six-year-old deaf Dogo Argentino who was in a Los Angeles animal shelter in the summer of 2009. The photo shows the stark realities of a dog's life on the inside. This photo resonated with so many it went viral. Nico was pulled by a rescue and transported to Indiana; 19 volunteer drivers networked and drove 19 legs of the journey to get him there.
Nico was then taught to communicate with people and how to be a pet. He was never aggressive at all, as the shelter had labeled him. He learned, thrived and also beat the cancer with which he was diagnosed when arriving in Indiana where he was eventually adopted by his forever family. Famous with his official Facebook page and live appearances, Nico stands for the power of social media and what determined people can do when they see something so undeniably wrong.
Source: The Story of Nico
Ahhh… This Is the Life!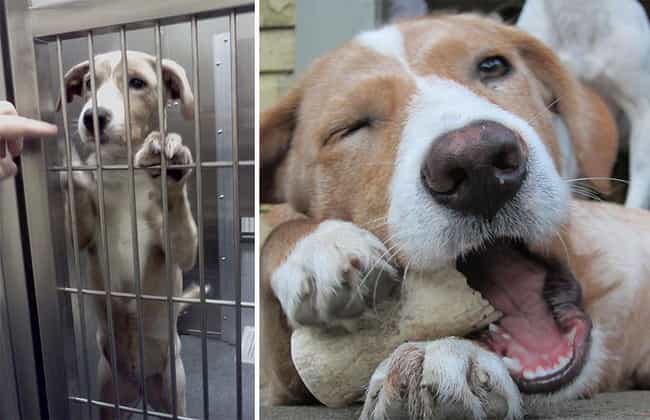 This lucky little guy with the nice, juicy bone, is almost as lucky as his new owner. Just look at those beautiful pearly whites on this sweet face!
Bodza Thinks the Dog Park Is Lots of Fun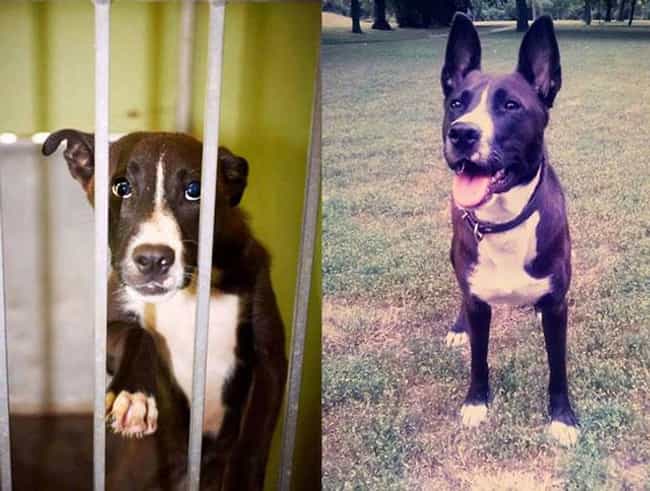 Bodza looks terrified and sickly behind the bars of his cage. What a difference it makes to find your special person. It has Bodza looking better than ever!
Eye on the Prize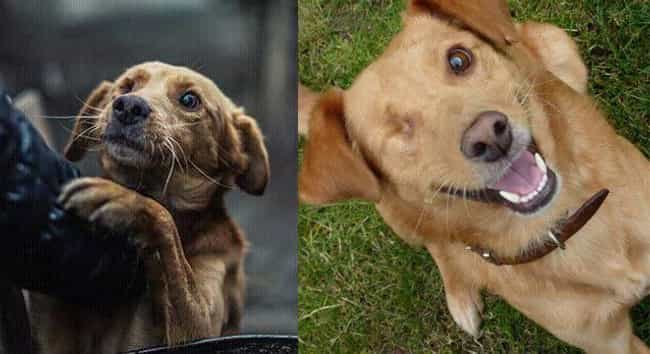 Living on the street can be life threatening and absolutely terrifying for any dog, let alone one that cannot see. Chili (formerly Kili) was saved by Blind Dog Rescue UK and transported from Serbia to the UK. Chili's transformation after his rescue is astonishing!

All I Want Want for Christmas Is a Home!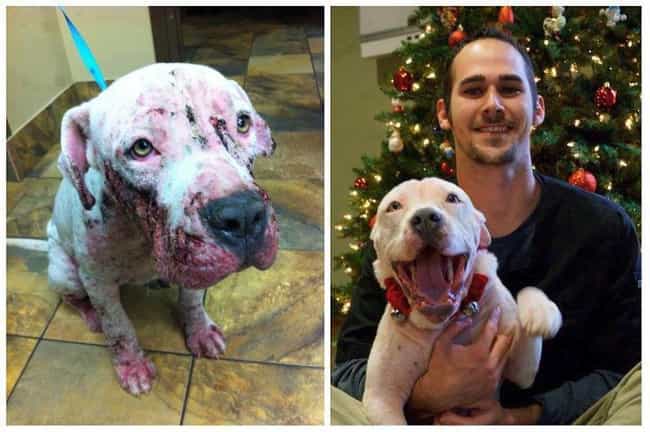 The face of this rescued street dog shows that Santa has some competition for the title of Most Jolly!
Fear vs. Freedom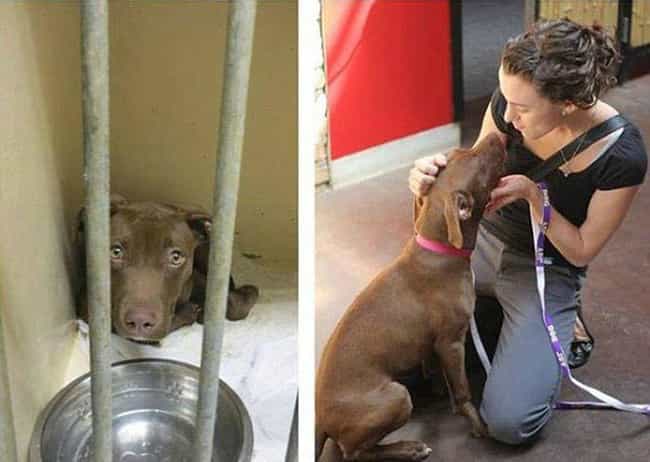 Euthanasia isn't the only thing to fear in a shelter. Disease outbreaks are something every shelter will face at some point. Most dogs contract kennel cough in shelters, while other contract deadlier diseases, such as distemper and parvo. Fleas, heartworm, and mange are also health risks that run rampant in shelter environments.
Adoptions are not only the answer for a happier life, but also for a healthy one.
Source: HSUS
Kenzi Rebounds with Lavender Baths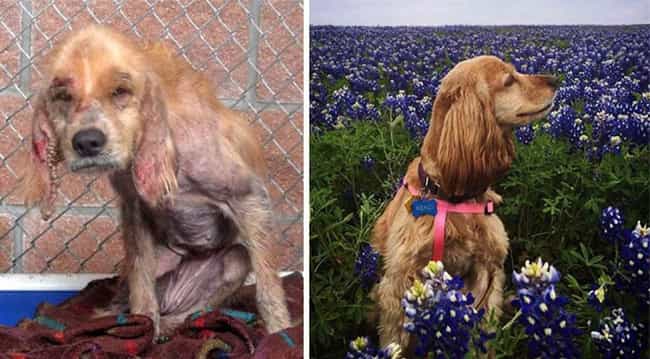 Kenzi was a the victim of a neglect case and ended up in a kill shelter in San Antonio, TX, before she was rescued by the Cocker Spaniel Rescue of Austin/San Antonio. Her wounds were treated and she was given soothing lavender baths to restore her coat to match her beauty within. It's no wonder she would be drawn to a field of the purple stuff to pose for her "freedom photo."
She Lived Happily Ever After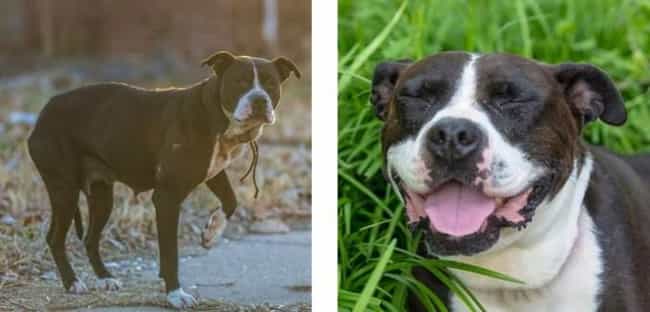 Tali was living on the streets of east St. Louis. She obviously had a home at one time, because she had a tether wrapped around her neck, which had long since become embedded in her skin. It took months for Gateway Pet Guardians to trap Tali because she was so fearful of humans. She was vetted, cared for and realized she could trust again.
Even though Tali became one of the rescue's favorites, it took two whole years for a human to fall in love with her and give her a forever home. It is so important to understand that good dogs come from shelters and rescues, they've just been let down by people. They do deserve their "happily ever after." Just look at that girl smile!
Lily Loving Life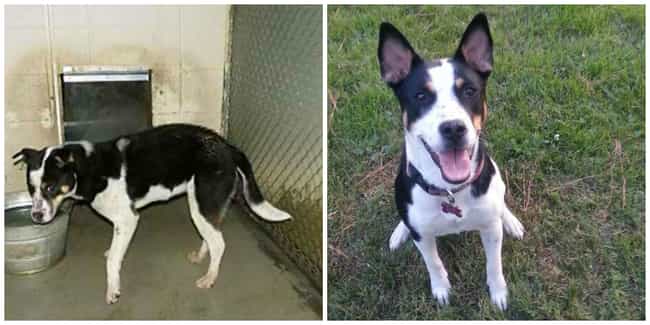 Lovely Lily was down in the dumps, but now things are looking up!
INTERESTING FOR YOU