'Tis the season to be jolly – or, if you're one of these naughty St. Nicks, greedy, lecherous and absolutely, undeniably unfit to set foot in public. Sometimes, Santa goes bad in the most disturbing way possible, so we've put together a list of the most horrible crimes committed by guys dressed in Santa suits. In honor of the holiday season, here are thirteen bank robbing, mall-flashing Santa Clauses that definitely made the naughty list.
What are the top crimes committed by guys in Santa suits? It seems like some of these dudes didn't learn any lessons from the epic Christmas movie Bad Santa, because none of these red-suited perpetrators were very slick in committing these crimes. Some of these Santas are badasses, but others are just run-of-the-mill crooks.

Child Molester Mall Santa Stalks Kids on the Internet
If Dateline NBC's
 To Catch A Predator 
had a Christmas episode, this guy could've been the star.
Here's what happened: Some creep named James Grey Daniel went on Yahoo Instant Messenger, and solicited a 13-year-old girl for sex. When he arrived at the pre-arranged meeting spot in Mayflower, AK, the police were there, waiting to sting him.
In court, he revealed that he had actually worked as a mall Santa for the past several years, meaning that many children had already sat on his lecherous lap and told him what they wanted for Christmas.
Santa's lap will never feel safe again.
Source
Santa Attacks a 74-Year-Old Woman with a 2×4
"Peace on
earth
" and "Goodwill towards men," were not phrases in this mall Santa's vocabulary when he attacked a 74-year-old woman with a 2×4 outside of a shopping center in Hartford, CT.
Allegedly, the elderly woman had stolen a few boxes of Hershey's Kisses from Santa, who promptly chased her and smacked her right in the face with a large plank of wood. Police could find no evidence that the woman had robbed him, and charged Santa with aggravated assault.
Source
Man in Santa Suit Flashes Teens His Twig n' Holly Berries
Santa Claus
strikes again, and this time, he's a streaker. At the Rockingham Park Mall in MA, Santa was arrested for showing off his jingle bells to a couple of unwitting teenagers. The creepiest part was that he wasn't even a mall Santa; just a guy in Santa suit looking to put his Little Drummer Boy on display.
Source
Children Cry as Santa Gets Arrested for Disorderly Conduct
At a major Christmas event in the UK, children were heartbroken to see police arrest Father Christmas for disorderly conduct.
After Santa's sleigh showed up at a parade-like event in Norfolk, a man dressed in a Santa suit got into a fist fight with a local teen. When children up and down the street began crying, someone finally called the police.
"The children were understandably concerned and upset at seeing what they thought was the
real
Santa being arrested," said an officer at the scene. "Norfolk Police are certain that the real Santa would not approve of
people
behaving in this way and of course he will continue his pre-Christmas visits and delivery of gifts everywhere on Christmas Day."
Source
Santa Tries to Abduct Child with Candy and a Unicycle
This Santa Claus should have called in a favor with Rudolph – police caught him trying to flee the scene of an attempted kidnapping on a city bus.
Creepy Santa, aka Anthony Russo, was hiding in the bushes with his decked-out jingle bell unicycle and a box of candy canes waiting for the perfect victim. When a 12-year-old girl walked by on her way to
school
, Russo jumped out and grabbed her. The girl wriggled out of his grasp and ran away. He was arrested shortly after.
Source
Santa Claus Robs a Bank Again
In an ironic twist, a man dressed as Santa robbed a bank in St. Nicholas, FL. He apparently entered the branch, fired a single warning shot in the air with a semiautomatic pistol, stole some money, and ran out.
"I was leaving to go to lunch. I usually look over at the bank to wave hi, and I saw a gentleman, a black male with a Santa hat on waving a gun," said Kim Edinger, who works in a nearby building. "I heard a shot, saw the smoke, and ran back in and asked my co-worker, Julie, I said, 'Call 911, I think the bank's being robbed."
Source
Santa Pulls Off the Greatest Heist of All Time
In Papua New Guinea, Santa pulled off the ultimate heist. The plan was perfect: dress up as Santa, act all jolly, hire an elf to carry a bag of presents, infiltrate tight security by convincing them you are there to deliver presents to the office staff, get in, and then pull out your gun and rob everyone in sight.
Santa and his elf got away with nearly $20,000 and just walked out of the building as if nothing had happened. Witnesses couldn't identify either of the
criminals
because of their incredibly festive disguises.
Source
Santa Kicks Cop in the Shins
This drunk Santa was arrested for aggravated disorderly conduct against a police officer when he got angry and kicked a cop right in the shins. Adam Klimek entered a shop in Lake View, Chicago, where he began swearing at patrons. He appeared intoxicated, so staff members escorted him out of the store. Once the police caught up to him, he became violent, and began taking swings at the officers. They finally managed to detain him, and he was charged with a felony for his actions.
Source
Santa Sexually Harasses His Elf
Another mall Santa was arrested in Hanover, MA on allegations that he grabbed the buttocks of an 18-year-old female photographer. He told her that he wished she was "a few years older, and [he] was younger." The elven-uniform-clad girl was not at all amused, and told her supervisor immediately.
Santa was asked to change out of his uniform before being escorted out of the mall by local police. He is banned from playing Santa at any professional venue in the area.
Source
Santa Accidentally Kidnaps an 8-Year-Old Girl
This Santa Claus was in for a world of trouble when he got arrested for kidnapping an 8-year-old girl, but he swears that he didn't mean to take her – he was just caught up in the holiday spirit.
A young girl was waiting with her family outside of a gas station in Augusta, GA, when a man in a Santa suit asked her if she wanted a ride on his motorcycle. The man, John Michael Barton, had a giant blow-up reindeer in his side car, which prompted the girl to accept a ride. The two took off down the road with her father racing after them. Barton pulled over and returned the girl, claiming that he wasn't aware that she didn't have permission to go for a ride.
"I was in Santa mode," said Barton of the incident. "It was a mistake, a terrible mistake on my part. I should have checked which child was which with adult."
Source
Santa Massacres 8 People at a House Party on Christmas Eve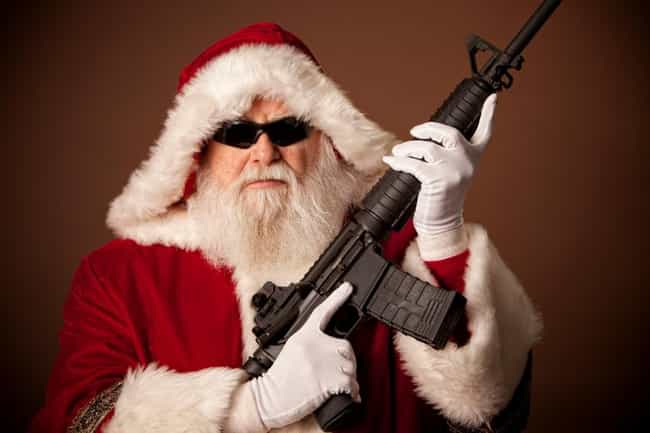 In 2008, a man named Bruce Jeffrey Pardo murdered eight people at a Christmas party on Christmas Eve. He shot several party-goers, including young children, and doused the house with an accelerant before lighting the whole thing on fire. Several guests died in the fire, while others were shot trying to escape. Pardo later killed himself at his brother's home a few miles away in Covina, CA.
Allegedly, Pardo's target was his ex wife, who had divorced him a few days earlier. She took $10,000, the house, and their
dog
in the divorce, and Pardo became depressed as a result.
Source
Santa Arrested for Child Pornography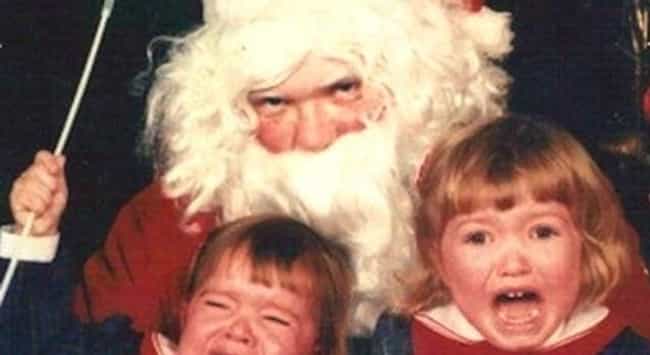 Dewey Lee Jones, 63, of Raleigh, NC, was arrested for possession of child pornography. Police
Santa Arrested for Giving Away Free Marijuana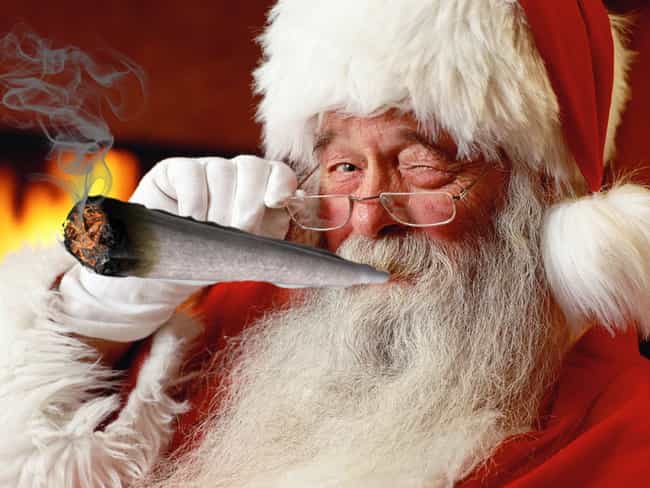 This Santa Claus was dreaming of a green Christmas when he began handing out marijuana at a Buffalo Wild Wings in Seaside, CA. Randy Lange, dressed as Santa Claus, began approaching customers and saying, "I have a gift for you," before handing them a small bundle of pot. He even left a hefty amount of ganja in the restaurant's tip jar. Police were notified, and subsequently arrested Lange for "furnishing marijuana."
Source
Santa Robs a KFC at Knife-Point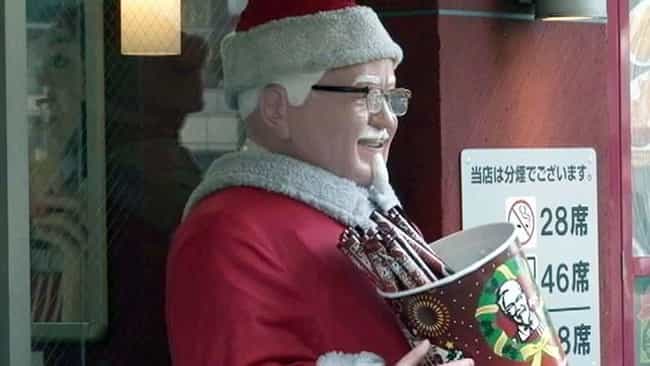 An armed robber dressed as Jolly St. Nick climbed through the drive-thru window of a Kentucky Fried Chicken and demanded cash. He threatened the staff with a knife before taking the cash and fleeing.
Source: 
The Guardian
INTERESTING FOR YOU