Many people have a coworker they just don't like. Sometimes, it's an issue of personalities not clicking or an out-and-out difference in interests and ideologies. But what happens if you're forced to like that coworker? Like, it's literally your job to pretend you adore that person? This was the dilemma faced by famous TV couples who hated each other off-screen.
All cherished TV twosomes give their best impression of being happy, lovey-dovey partners. While there are some TV couples who got together in real life, there are plenty of other actor pairings who hated each other in reality. Many people look to television for entertainment and escapism, so it's easy to forget that the actors you're watching are actually working their jobs right there – and not every job, work environment, or colleague is going to be a cakewalk.
These professionals, who had to pretend to like someone they despised, had to take their acting abilities to a whole new level. In most cases, they were successful in making fans believe they loved their TV partners. However, off-screen coffee breaks, holiday parties, and downtime were probably pretty brutal – just ask these TV co-stars who hate each other.
Kunis and Kutcher are happily married now, but their relationship wasn't always so sunny. When they met on the set of

That '70s Show

, where they portrayed Jackie and Kelso, the two actors couldn't stand one another. For all their scenes, Kunis and Kutcher had to pretend to really like each other when they actually despised one another.
It could be chalked up to a maturity issue or even a generation gap: Kunis was just 14 when

That '70s Show

started, and Kutcher was 21. Co-stars were a bit surprised the two ended up together in real life, but in a twist of sweet irony, Kutcher became Kunis's first kiss – in character as Kelso and Jackie, of course.
Stana Katic & Nathan Fillion – Castle
The stars of

Castle

were once said to "completely despise each other." Rumor had it that Katic, who played Kate Beckett, and Fillion, who played Richard Castle, refused to speak to one another when they were not in front of the camera. But things on the set apparently got so bad that Katic was breaking down in tears because of Fillion's behavior, and producers forced the two actors into actual couples counseling. Both actors have handled the reputed discord with professionalism: Katic has never publicly acknowledged any tension between Fillion and herself, and Fillion has tweeted his support of Katic.
Lauren Graham & Scott Patterson – Gilmore Girls
Stars Hollow's favorite couple, Lorelai (Lauren Graham) and Luke (Scott Patterson), may not have been as star-crossed as viewers had hoped. Though both Graham and Patterson have worked hard to deny any friction between them, rumors persist that the two

Gilmore Girls

stars weren't exactly the best of friends. Or friends at all, really. When asked in an interview if she and Patterson were friends off the set, Graham replied with what appeared to be an emphatic, "No." The two did post an all-smiles selfiewhen

Gilmore Girls

wrapped, but were they just happy because they never had to see each other again? Fans may never know.
Nina Dobrev & Ian Somerhalder – The Vampire Diaries
The swoon-worthy stars of

The Vampire Diaries

dated for three years during the show's run. Their breakup was rumored to be ugly, but Dobrev's Elena and Somerhalder's Damon were also a couple on the show. This made for some extremely difficult and more-than-a-little awkward tension on-set. Eventually, Dobrev left the series. She seemed to look back on it all in stride. "Yes, we're professional and that's fine," she said in 2015 of her rocky relationship with Somerhalder. "We were friends long before we dated and we still are now."
Gillian Anderson & David Duchovny – The X-Files
Not the much-loved Scully and Mulder?!? Yes, it's true. Gillian Anderson and David Duchovny of

The X-Files

have kept the truth out there: as co-workers, they've had their share of ups and downs. "There were periods when we hated each other," said Anderson, who, tellingly, neglected to thank her co-star in her Emmy acceptance speech. Duchovny has also confirmed that the two had no real relationship off the set.
However, it's also important to point out that both appear to have been professional despite their differences, and they continue to work together in various

X-Files

incarnations in the 21st century. According to Duchovny, they now "have a successful working relationship and that's the best way to go about this job."
Vivian Vance & William Frawley – I Love Lucy
Perhaps the most famous and beloved TV couple sidekicks in history,

I Love Lucy

's Fred (Frawley) and Ethel Mertz (Vance) were arguably just as popular as Lucy and Ricky Ricardo. But Frawley and Vance detested one another. It all started when Vance, who was 22 years younger than Frawley, started voicing her displeasure about their age difference ("No one will believe I'm married to that old coot!") and about how mean and crotchety Frawley was.
And by all accounts, he was something of a crank, saying Vance looked like "an old sack of doorknobs." Years later, Vance was dining at a restaurant when she heard Frawley had died. She ordered celebratory champagne for the entire place. Needless to say, the two never made peace, despite their pitch-perfect chemistry and comedic timing.
Jean Hagen & Danny Thomas – Make Room For Daddy
During the first three seasons of the classic sitcom,

Make Room for Daddy

, Danny Thomas's character, Danny Williams, was married to Jean Hagen's character, Margaret. Plotlines often revolved around Margaret managing the household and raising the kids while Danny was out earning a living to support the family. At the time, it was a novel concept that proved successful, due in no small part to Thomas and Hagen's chemistry (she was nominated for an Emmy for each season she was on).
Yet not everything was perfect in classic-sitcom land. Thomas and Hagen reportedly clashed on the setand didn't care that much for one another. Hagen tired of the show and of Thomas, and left at the end of the third season. Thomas was apparently so incensed at her leaving that he demanded the writers kill off the character, making Margaret Williams the first major sitcom character to die.
Patti LuPone & Bill Smitrovich – Life Goes On
Life Goes On

was one of those shows that felt revolutionary at the time, but, somehow, wasn't remembered kindly years after it aired. When it debuted in 1989, the weekly drama chronicled the life of the Thatcher family in the Chicago suburbs: mother Libby (the legendary, Tony-winning LuPone), father Drew (Smitrovich), daughters Becca and Paige, and son Corky.
Corky, portrayed by Chris Burke, had down syndrome and many early plots revolved around him; a principal character (and actor) with down syndrome in a major television show was a big deal at the time, and it's unfortunately still pretty unheard of. As the show went on, the focus shifted to Becca and her relationship with an HIV-positive classmate (Chad Lowe), another pioneering move during that time period.
But the two actors who presided over the Thatcher family couldn't stand one another. In her self-titled autobiography, LuPone describes she and Smitrovich as "oil and water…from the very beginning," calling him a "self-absorbed bully." "If only he had been a talented or generous actor, his behavior might have been justified," she writes. As the show went on, the two stopped speaking altogether outside of their on-camera dialogue. LuPone summed up the animosity in her typically ballsy way:
"We played love scenes, we played parenting scenes, we kissed, we hugged, and when the director yelled 'Cut,' we never even looked at each other. That's acting. (On my part. He just stunk.)"
Shelley Long & Ted Danson – Cheers
Ah, those good ol' "creative differences." They were thought to be one of the main reasons Shelley Long left her role as Diane Chambers on

Cheers

. It was widely reported that she and Ted Danson were not getting along, resulting in Diane leaving Danson's Sam Malone at the altar in the Season 5 finale. What, exactly, defines a creative difference? Is it a simple disagreement on how to play a scene? Or is it an overwhelming desire to scratch your co-star's eyes out? No one knows the answer, but Long, acknowledging some friction between Danson and herself, insists they really got along well.
Julie McCullough & Kirk Cameron – Growing Pains
On the fourth season of

Growing Pains

, Mike Seaver (Kirk Cameron) fell hard for nanny Julie Costello (Julie McCullough). A marriage was in the works, and McCullough had completed filming eight episodes when she was abruptly fired. The reason? Cameron, a born-again Evangelical Christian, had issues with McCullough posing nude in Playboy, which actually occurred three years prior to her

Growing Pains

run.
Ten years passed before Cameron apologized and cited his immaturity at the time, seemingly taking responsibility for the firing. Yet in his autobiography, he blamed showrunner Dan Guntzelman, who in turn said McCullough was let go for storyline reasons. Producer Mike Sullivan confirms Guntzelman's account. Still, adding considerable doubt to Cameron's story is the fact that McCullough was replaced on

Growing Pains

by none other than Chelsea Noble, who was Cameron's then-girlfriend, now-wife.
Joan Collins & John Forsythe – Dynasty
In the 1980s,

Dynasty

was the height of sophistication and scandalous soap opera. At the epicenter of all the shoulder pads, big hair, catfights, and melodrama were Blake Carrington (Forsythe) and Alexis Colby (Collins). Blake and Alexis were divorced, but their ongoing feud was one of the main plot points that drove

Dynasty

for most of its nine seasons on the air. And the dislike seems to have continued when the cameras weren't rolling.
Collins has admitted that Forsythe was cool to her when they weren't filming, and he even went so far as to not speak to her at all for an entire season – outside of the dialogue they shared in scenes, of course. Happily, as time went on and

Dynasty

receded further and further into the rearview, the iciness melted: Collins was one of the first people to pay tribute to Forsythe after his 2010 death.
Naya Rivera & Mark Salling – Glee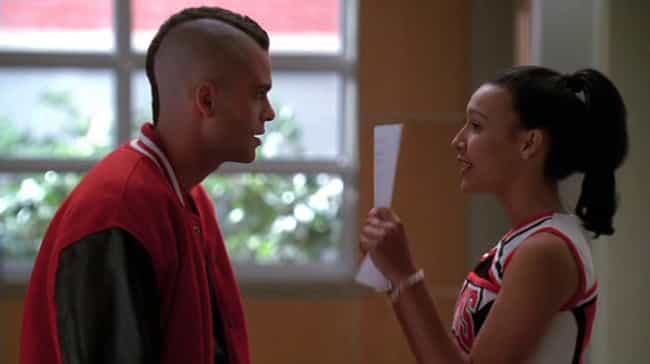 In the early seasons of

Glee

, it was common knowledge that Rivera and Salling were a real-life item. However, things eventually soured and the two broke up. Unfortunately, they still had to play the on-again, off-again couple of Santana and Puck. The rumor mill claims that Salling cheated on Rivera and she got even by keying his car. Later, after Salling was arrested on child pornography charges, Rivera wrote in her memoir that she wasn't at all surprised, essentially saying he was always a jerk.
INTERESTING FOR YOU